Mr Mark Devlin
Member appointed by Council (first appointed: 1 October 2017 for a first term until 31 July 2020).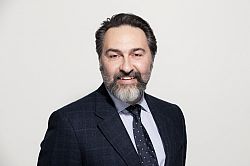 Mark is Chief Operating Officer with UNICEF UK, the leading child rights and international development charity. UNICEF UK is a major national committee of the United Nations International Children's Emergency Fund, the world's foremost organisation for children. UNICEF programmes provide access to life-saving vaccination, nutrition, water, sanitation, education and protection for children in danger - especially those caught up in conflict zones and natural disasters.
He is a Trustee of the Royal College of Paediatrics and Child Health and is Chair of the Board of Trustees for 1st Place, a South London children's centre charity. He is also an Advisory Board member with Article 25, an NGO supporting sustainable architecture projects internationally.
Previous career experience includes chief executive and non-executive chair roles in healthcare management and education. These include having been CEO of two NHS Trusts and Chair of Health Education England, South East region.
He is a Physiology graduate of Queen's University, Belfast and holds a Master's degree in Health and Social Services Management. He is a member of the Institute of Healthcare Management and Association of Chief Executives of Voluntary Organisations (ACEVO).
Member of the following committees:
Strategic Performance and Resources Committee
Capital Programmes Committee