Dame Denise Holt
Member appointed by Council from 1 August 2017 for a first term until 31 July 2020 (as Chair from 1 August 2018). Re-appointed for a second term of three years from 1st August 2020 to 31st July 2023 as an independent member and Chair of Council.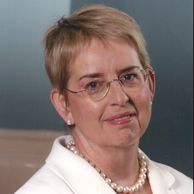 Dame Denise Holt is a former British Ambassador to Mexico and to Spain. She joined the FCO in 1970, initially as Research Officer for Iberia, monitoring the transitions of Spain and Portugal from dictatorship to democracy. Subsequent postings overseas included Ireland (1984-87 and 1998-1999) and Brazil (1990-93). In London she was successively Head of the Central American desk; Deputy Head of Eastern Department, responsible for Central Asia and the Transcaucasus; Deputy Director (later Director) for Human Resources and Director for Migration (concurrently Director for the Overseas Territories).
Since leaving the FCO in 2009, Denise has developed a wide ranging portfolio of non-executive roles. She is currently Chairman of M&S Bank plc and a Board member of HSBC Bank UK plc and Iberdrola SA. She was a member of the NHS Pay Review Body from 2010-2015, and has recently stepped down as independent Chair of the Nominations Committee of the Alzheimers Society. She was a member of the inaugural Board of Ofqual (2010-2013) and of the Council of Bristol University (her alma mater). She was interim Chair of the Institute for Latin American Studies (one of the constituent members of the School of Advanced Studies at the University of London), and of the Canada Blanch Centre for the Study of Contemporary Spanish Studies at LSE. She was also for a time Independent Chairman of Standards for the South Downs National Park.
A common thread in Denise's career has been managing and grasping the benefits of transition and change whilst raising constantly standards. Having promoted the quality and diversity of British Universities in an increasingly competitive global market during successive overseas postings, Denise believes that Sussex University is very well placed for even greater success, building on on its strong foundations and sense of identity and its engagement with both local society and the wider world of academia.
Member of the following committees:-
Remuneration Committee
Strategic Performance and Resources Committee
Chairs' Committee (Observer)