Mr Andy Bryant
Member appointed by Council (first appointed: 1 August 2012 for a first term of 3 years, re-appointed for a second three year term from 1 August 2015 until 31 July 2018 and further re-appointed for a three year term from 1 August 2018 until 31 July 2021).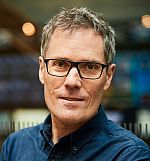 Andy is Managing Director of Red Bee, a creative agency specialising in the TV and media sector, and a member of the Leadership Team at parent division Ericsson Broadcast & Media Services. In this role, Andy is responsible for leading an award-winning business with a global reputation for creating and promoting media brands across multiple platforms.
Since joining the company in 2002, Andy has overseen high profile strategic and creative work for clients around the world, including the BBC, Virgin Media, Disney, ITV, Fox, CCTV (China), France Télévisions, European Broadcasting Union, CANAL+ and NBC Universal, as well as non-media brands like Barclays, Hyundai and Nissan.
Andy has over 30 years of experience in advertising, marketing, broadcasting and strategic consultancy, both in the UK and Australia. He is an accomplished public speaker and industry commentator, having presented at numerous conferences and events across Europe, the US, Asia and the Middle East. In 2013 he was appointed Honorary Professor of Film & Television Studies at the University of Nottingham.
http://uk.linkedin.com/in/andybryant1
http://twitter.com/andybryant1
Member of the following committee:-

Student Experience Committee