Ms Aleema Shivji
Member appointed by Council (first appointed: 15 November 2018 for a first term until 14 November 2021).
Aleema is the UK CEO and Global Lead for Strategic Partnerships for Humanity & Inclusion, an international NGO working alongside disabled and vulnerable people affected by conflicts, disasters and poverty.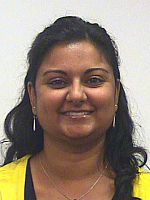 She has almost 20 years of professional experience, starting off her career as a physiotherapist, and working in international development and humanitarian assistance since 2004. Her professional experience spans Europe, Asia, North America, Australasia, the Middle East, Sub-Saharan Africa, and the Caribbean, including in crisis and post-crisis contexts.
Aleema was a founding Trustee and member of the Nominations Committee of the Start Network, a network of 42 aid agencies, promoting radical change to the humanitarian aid system, and more effective response to affected populations.
She is a member of the Steering Committee of Groundbreakers, a network of UK-based female charity chief executives, which promotes female leadership in the charity sector.
She has a BSc in Physical Therapy from McGill University, and a Masters in Conflict, Security and Development from the University of Sussex.
Member of the following committees:-
Student Experience Committee
Honorary Degrees Committee