Studying neuroscience has opened up new doors for Sergio Rossoni, an Italian student who won the 2016 Sussex Neuroscience Prize for his final project.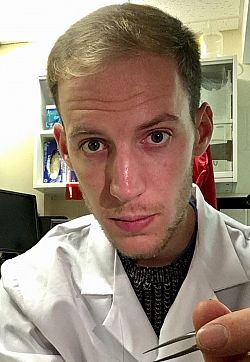 Sergio, a 23-year-old from Milan, graduates with an MRes in Neuroscience this week after four years at Sussex. He found coming to Brighton a big change at first – but soon met new friends and got into campus life.
He says: "Coming to Sussex was a big culture shock at first – learning a new language and meeting lots of new people. The best thing about Sussex is its community feel - after a few weeks of living on campus in my first year I really felt at home here."
His lecturers helped him to deal with the language differences and to settle in. "My lecturers were really supportive – especially as I was moving somewhere with a new language and new traditions. My reading materials and recorded lectures were made available online, which really helped me.
"Sussex Neuroscience also put on lots of events as well, which really makes you feel part of a group."
Sergio adds: "I mainly chose to study here because of the rich neuroscience community. It's great that, although everyone in Sussex Neuroscience researches different questions, we all exchange views and talk about what we are working on - both in the lab and at the pub."
The former Sussex student, who is now studying for a PhD at Cambridge, says his lecturers inspired his particular area of research: "I was really inspired by academics such as Dr Paul Graham and Dr Jeremy Niven during my studies.
"I'm really interested in insects and how complex their behaviours are, despite how simple their nervous system is compared to mammals. I want to understand how they programme their behaviour, which is why I chose to study the predatory strike of praying mantis for my final project."
The award-winning student says that working on his final project has spurred him on to study predation in killer flies for his PhD.
And although he wants to be an academic, Sergio credits his time at Sussex for opening up new opportunities for him. He says: "The best thing about studying neuroscience at Sussex is that it has opened up new doors for me. Even though I've always wanted to be an academic, I now know there are other routes available for me to go down if I wish – which is invaluable."