After completing an undergraduate degree at Cambridge University, 22 year old Matthew McConkey from Ballymena in Northern Ireland was looking to further his academic career at an institution that would allow him to take a more environmentally focused approach to literary theory.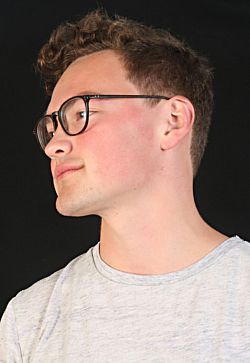 During discussion with his Cambridge tutors, the University of Sussex came up on more than one occasion. Upon further investigation, Matthew realised that an MA in in English: Literature, Culture and Theory was the perfect course with which he could take his next academic step.
"I was aware that I wanted to spend a lot more time thinking about literature and the environment, looking at 18th to 19th Century literature through the lens of economic history and philosophy.
"In terms of taking a different approach to literature particularly integrating theory and more progressive approaches to literature, that's something that Sussex is very happy to shout about.
"And the Chancellor's Masters Scholarship was definitely a big incentive!"
Upon arrival, Matthew felt at home almost immediately.
"I really loved it. I felt really supported within the English faculty and there are so many events that are specifically for postgraduates in the English academic community too, which is great.
"And obviously, Brighton's such a wonderful city so having it on your doorstep is unbeatable."
When it came to his dissertation, Matthew decided to continue his focus on the links between literature and the environment.
It's fair to say that he was successful, too; he is this year's recipient of the Alan Sinfield Prize for Critical Innovation, with a dissertation focusing on how 18th and 19 century science influenced the way people write about the relationship between emotions and the physical environment.
His first ever academic publishing credit, in prestigious journal Textual Practice, was also a huge boost during his time at Sussex.
"That was a big honour. Because I want to go into academia, it was the foot in the door that I need for PHD applications."
Outside of his studies Matthew is an enthusiastic member of the University's Yoga Society, a pursuit that has also borne fruit.
"Apart from getting published, my other big achievement this year was doing a handstand for the first time!"
A PHD now beckons, focusing on the way three writers of the Romantic period with mental health issues represented the natural world. Matthew hopes to complete at Sussex, too.
What advice would he give to anyone considering studying literature at the University?
"If you're interested in literary criticism that is engaged culturally and politically then Sussex is the right place to go."