It was a bad injury while on duty for the University of Sussex rugby team that gave Laurence Stevens his idea for a customisable compression suit for injured sportspeople.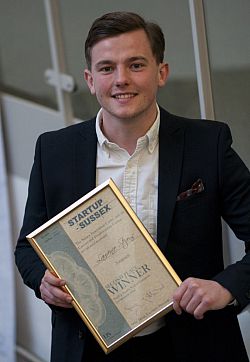 His product, Vanguard, secured him a first-class degree in Product Design and £5,000 as runner-up in the StartUp Sussex entrepreneurship competition.
Fast-forward 18 months and he graduates this week with an MSc in Entrepreneurship and Innovation, ready to take Vanguard to the next level with his newly acquired business skills.
Laurence says: "The first thing you are given when you get injured is ice therapy but it's pretty awkward to apply ice packs and do dynamic exercise at the same time, which is what you need when you are recovering.
"Everything out there already was too expensive, mundane or restrictive.
"I thought that I could do better, so I took it upon myself to incorporate ice therapy into compression clothing."
His design, Vanguard, uses hidden pockets to incorporate weights, padding and hot or cold gel packs, and is designed to enhance training and recovery regimes for players of high-impact sports.
Laurence says: "Getting to the final of StartUp Sussex taught me about the practical needs of a start-up business, and I feel like it equipped me with the skills to develop Vanguard and any ideas I have in the future."
Now living in London, he plans to secure additional funding to develop his product further and launch his business.