A year spent at the University of Sussex exploring the frontier between humans and computers landed Erika Agostinelli a dream opportunity to work on IBM's flagship AI (artificial intelligence) project.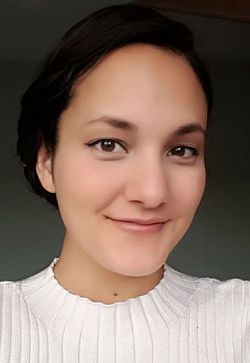 Erika graduates this week with an MSc in Human-Computer Interaction (HCI).
She says: "I was attracted to the HCI field because of the perfect mixture of cognitive sciences and programming skills that the Masters course offered. I have been always interested in technology from a human-centred perspective."
During her time at Sussex, Erika worked with some of the leading researchers in the field to explore the use of haptics in future technologies. This rapidly growing field is the science of applying touch sensation and control to interaction with computers and technology.
Erika says: "University is the perfect place to find professional figures who can help you deepen your field of interest or simply give you the initial insight that will intrigue you to continue to study, read and research.
"The last three months of the dissertation period were the most exciting: I had the chance to prepare my dissertation with Dr Marianna Obrist and her amazing team in the Sussex Computer Human Interaction (SCHI) Lab.
"She gave me the freedom to explore what I was passionate about and guide me through the whole process."
Since finishing her course, Erika has started work in the IBM Client Innovation Centre, where she gets the chance to work closely with IBM Watson, the company's AI supercomputer.
She says: "I am really enjoying the role and I will continue to work and deepen the fields that make me most excited and take it from there.
"The University of Sussex offered numerous events for the students to meet alumni and find job opportunities: job fairs organised by the University are highly recommended to all the students."