The Sussex MA in Migration Studies provides a grounded knowledge base in migration processes and their consequences for today's societies. The approach is interdisciplinary and covers the experiences of sending and receiving regions, countries and states, and different types of migration and migrants across the globe. Through a focus on global transformations the MA addresses issues that shape migrants' life chances, including: human rights, states, transnationalism and migration management; citizenship, 'integration' and cultural diversity in societies of settlement; and the migration and development nexus. It offers students the opportunity to choose a set of modules that follow their own substantive and disciplinary interests.
Typically, this may be on: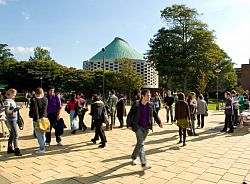 managing migration
citizenship
ethnicity
cultural diversity
human rights
migration and development
forced migration
human rights and refugees
Follow us #MAMigrationStudies
Why study Migration Studies at Sussex?

Our Migration Studies degrees are affiliated with the internationally recognised Sussex Centre for Migration Research (SCMR) which has a large concentration of researchers in the migration and ethnic relations field and an outstanding global reputation for research on migration. The SCMR hosts one of the largest and highest ranked international journals, the Journal of Ethnic and Migration Studies.

A key part of the MA programme is the participation of students in the research seminars and activities of the SCMR. The SCMR funds a high profile seminar series of invited international speakers. Invitees included: Pieter Bevelander (Malmo); Alice Bloch (Manchester); Marco Martiniello (Liege); Ruud Koopmans (Berlin); Adrian Favell (Paris); Eva Ostergaard-Nielsen (Barcelona); Jean Tillie (Amsterdam); Christina Boswell (Edinburgh); Robert Kloosterman (Amsterdam); Ninna Nyberg-Sorensen (Copenhagen); Joaquin Arango (Madrid); Alison Strang (Edinburgh); and Rogers Brubaker (California). The opportunity for intellectual engagement with some of these leading figures in the field in addition to Sussex staff is a key feature of the MA programme. In addition, in 2016 there was a postgraduate conference, following the success of the 2014 Conference 'Migration researchers in the Field', and in Autumn 2016 the 4th SCMR/JEMS annual conference. MA students are encouraged to participate.

We recently held a series of exclusive postgraduate webinars for Sussex offer holders on a number of our Masters courses in Global Studies. Professor Paul Statham presented the MA in Migration Studies and provided invaluable insight into what to expect when you join us. You can watch the recording which is set out below. We hope you find it useful and we look forward to greeting you in September.

Links with Governments, International Organisations, and NGOs

In addition, Sussex SCMR staff have strong policy links with national governments and international organisations such as IOM, the International Organization for Migration, and ILO, the International Labour Organization.

Student Profile

The MA Migration attracts a wide range of students from the UK and overseas. Some have direct practical experience working on migration issues in government, NGOs or voluntary agencies, others have recently completed their first degree (not always in social sciences), while still others are returning to study after a number of years.


You need a good first degree and/or relevant professional or voluntary experience. If English is not your first language, you need a minimum IELTS score of 6.5.

Testimonials from MA students

"My time at Sussex and the postgraduate degree in Migration Studies were the best, most intense and most interesting time of my life to date. Raised by an English mother and a German father whose family had left Poland in the 1940s, questions of identity, belonging and the influence of migration on people's life paths have interested me for a long time.

After finishing a degree in Political Science and History in Germany, I decided to continue my studies at a place that would offer the possibility to focus on migration without having to choose against my passion for refugee and conflict studies. The MA Migration Studies allowed for such a specialisation, providing in-depth knowledge over the vast field of migration studies whilst giving students the choice to pursue interests in related topics. Moreover, with the help of the always supportive staff I was able to choose the modules that were right for me - focusing on refugee-related issues, identity and the participation of migrants and refugees in society. I also enjoyed expanding my knowledge by frequently visiting lectures of visiting scholars from various disciplines across the Global Studies department. The lecturers were careful to include a range of perspectives in all of their courses, which made for a lot of work, but also a great outcome, and would always be open for discussions and suggestions. The welcoming openness to debate and new ideas is something I value very highly as it shaped my critical thinking, my argumentative and rhetorical skills and the tight-knit community amongst the course's peers. I feel that I benefitted greatly - personally as well as professionally - from the balanced content, the high quality of the discussions and course work as well as the international community at Sussex. At this point I feel well-prepared to work in a setting where policy, practice and academia meet, and I am glad that Sussex was a key part of my academic journey."

Susanna Thiel, assistant consultant for refugee issues

"As a mature student, I came to Sussex with excitement and a bit of hesitation. I had been working in International Development for eight years already and I was nervous to return to academia. However, the experience I had at the School of Global Studies is something I will remember for a lifetime to come. The one-year program was intense and sometimes stressful but what I learned can never be erased. During the year, my skills in research and my knowledge in the field of migration improved tenfold. I also learned a lot about myself and the goals I wanted to achieve. The ability to focus on our own interests during the term was amazing and allowed us to explore extremely diverse topics. The environment at Sussex was completely different from what I had experienced in the past, coming from the largest university in Canada. Sussex is very inclusive. The staff were supportive and I always felt welcomed. I made friends in the program that I consider to be family now. Living in Brighton made the overall experience complete. I got involved with local organisations such as Sanctuary on Sea and the Brighton and Hove Multicultural Group. It was a great way to connect the local community while also studying. Although I began the experience with hesitation, I ended it with the satisfaction of knowing I made the right choice for my education and for my future. I'm so thankful I had this opportunity".

Andrea McKinlay

"Doing an MA in Migration studies at University of Sussex has been a highly rewarding and valuable experience for me. With a background in International Development I was interested in learning more about humanitarian response and refugee crises, but also found myself widening my understanding and interest in other migration related issues such as integration and social cohesion. One of the highlights of undertaking this MA has been to delve into a subject area that I am highly passionate about. Having volunteered for various organisations working with refugees, asylum seekers and migrants' rights, I have found the MA in Migration Studies an excellent way to compliment my existing experience, and enhance my understanding of the issues I have been working on. The academic staff at Sussex facilitates excellent learning opportunities and provide first-rate support. Not only are classes highly engaging and comprehensive, there are also ample opportunity to attend extra curricular events such as the migration centre's seminar series and the annual SCMR Migration Conference. There are also lots of excellent opportunities to get involved in a variety of voluntary community organisations in Brighton that work on promoting migrants rights and community cohesion. The quality of the MA in Migration at Sussex is incredibly high and draws in people from an array of backgrounds and stages in life. Through the MA I have therefore met likeminded people and developed close friendships that will stay with me forever. After completing my MA I have started working for the Department for International Development and UK's humanitarian response in Syria and the neighbouring region, where I get to apply the knowledge and skills I gained from undertaking the MA in Migration Studies. The MA has provided me with excellent experience, knowledge, opportunities and friends, much more than I had ever expected to gain from a Masters".

Anna Hanssen, DFID

Career Opportunities

Many students go on to careers within international organisations, NGOs and charities with a migration focus. However, a significant number also go on to undertake doctoral studies subsequent to their MA Migration at Sussex.

'The degree taught me how to analyse migration dynamics and identity politics while giving me a solid academic background to support me in my future career. It allowed me to explore the gaps between policy and effective migrant support practices, gain an understanding of international migration issues and hone the research skills that are necessary to the study of migration on a regional basis.'

Simmi Dixit
Project Officer
Multimedia and Multiculturalism
United Nations Association in Canada

Teaching Team

This course is convened by Paul Statham, Professor of Migration (SCMR Director) paul.statham@sussex.ac.uk.

Other faculty are: Prof Mike Collyer; Dr Elizabeth Craig; Dr Anne-Meike Fechter; Dr James Hampshire; Prof Raminder Kaur Kahlon; Prof Russell King; Prof JoAnn McGregor; Dr Laura Morosanu; Dr Ceri Oeppen; Prof Ben Rogaly; Dr Katie Walsh; and Dr Benjamin Zeitlyn.