Join us for a Masters in Migration and Global Development at the University of Sussex, ranked first in the world for Development Studies.
Do you want to know more about why people migrate from the Global South? Is it because aid and development initiatives fail to meet their stated goals?
Our new Migration and Global Development MA gives you a distinctive and critical grounding in international development and migration studies. Learning from our faculty who have detailed and extensive knowledge from working in the field, you'll gain an advanced understanding of the complex relationship between migration and development. Students are offered research-led and evidence based teaching that will discuss issues related to: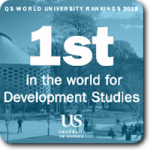 Migration-development nexus, including rural-urban and South-South migration;

Transnational migration and its developmental impacts;

Gender and migration;

Internal migration, poverty, and labour rights;

Environmental change and its effects on development and migration;

Humanitarian aid and refugees.
Why study Migration and Global Development at Sussex?

The University of Sussex is a top-20 UK university that has been ranked first in the world for Development Studies in 2018 by the QS University Rankings. This is the fourth consecutive year that the University has been ranked in the top two universities globally for development. The result reflects the quality, impact and range of international development research conducted in the University of Sussex's School of Global Studies and its partner the Institute of Development Studies (IDS), as well as the Department of Economics, the Science Policy Research Unit (SPRU) and the Centre for International Education (CIE).

Students in the Migration and Global Development Masters will be part of this vibrant academic community and they will be taught and mentored by world leading researchers in the fields of migration and development.

The MA in Migration and Global Development is nested within the Sussex Centre for Migration Research (SCMR) which has one of the largest concentration of scholars in the migration, ethnic relations, and development fields and an outstanding global reputation for research on migration. The SCMR also hosts the largest and highest ranked international journal in the field, the Journal of Ethnic and Migration Studies.

One of the most recent high profile efforts to strneghten the research portfolio on migration and development has been the establishment of the Sussex-Mahidol Migration Partnership (SMMP), launched in 2015 by Professor Paul Statham, SCMR Director, with the aim to open up a new field of cutting-edge research that investigates the transnational relationships between Europe and SE Asia that are driven by international migration flows. It is a collaboration led by the SCMR, and the Mahidol Migration Center (MMC) in the Institute for Population and Social Research (IPSR), at Mahidol University, Thailand.

A key part of the MA programme is the participation of students in the research activities of the SCMR. The centre hosts a seminar series, an annual international conference on migration, as well as an annual postgraduate conference. The invited speakers at these events are high profile scholars from all fields of migration, to reflect the breath and diversity of this area of research. Invitees included: Richard Alba (CUNY); Roger Waldinger (UCLA); Irene Bloemraad (UC Berkley); Brenda Yeoh (NUS); Adrian Favell (Leeds); Ruben Andersson (Oxford); Susanne Choi (CUHK). Details of this term's and past events are available on the SCMR website.

The opportunity for intellectual engagement with some of these leading figures in the field in addition to Sussex staff is a key feature of the MA programme, and MA students are encouraged to participate to all these activities.

We look forward to greeting you in September.

Links with Governments, International Organisations, and NGOs

Sussex SCMR staff have strong policy links with national governments and international organisations such as IOM, the International Organization for Migration, and ILO, the International Labour Organization.

Student Profile

The MA Migration and Global Development aims to attract a wide range of students from the UK and overseas. Some have direct practical experience working on migration issues in government, NGOs or voluntary agencies, others have recently completed their first degree (not always in social sciences), while still others are returning to study after a number of years.

You need a good first degree and/or relevant professional or voluntary experience. If English is not your first language, you need a minimum IELTS score of 6.5.

Career Opportunities

Students will acquire critical skilles that will prepare them for a prefessional career within international organisations, NGOs and charities with a sustainable human development and migration focus. Students will also obtain expertise in social science approaches that will equip them to undertake doctoral studies subsequent to their MA Migration and Global Deveopment at Sussex.

'The degree taught me how to analyse migration dynamics and identity politics while giving me a solid academic background to support me in my future career. It allowed me to explore the gaps between policy and effective migrant support practices, gain an understanding of international migration issues and hone the research skills that are necessary to the study of migration on a regional basis.'

Simmi Dixit, MA Migration Studies, University of Sussex
Project Officer
Multimedia and Multiculturalism
United Nations Association in Canada

Teaching Team

This course is convened by Dr Sarah Scuzzarello, Researcher at the SCMR and the Department of International Development, S.Scuzzarello@sussex.ac.uk

Other faculty are: Prof Mike Collyer; Dr Elizabeth Craig; Dr Priya Deshingkar; Dr Anne-Meike Fechter; Dr James Hampshire; Prof Raminder Kaur Kahlon; Prof Magnus Marsden; Prof Russell King; Prof JoAnn McGregor; Dr Laura Morosanu; Dr Ceri Oeppen; Prof Ben Rogaly; Prof Paul Statham; Dr Dorte Thorsen; Dr Katie Walsh; and Dr Benjamin Zeitlyn.