Welcome to the SCMR JEMS Talking Heads series.
In the (hopefully) temporary situation of a global pandemic, like many research centres we have sadly had to postpone our usual series of seminars and conference. However, one outcome of the pandemic is that there is wide access to online seminars on migration and ethnic relations. Rather than replicate those, we've decided to run an SCMR-JEMS "Talking Heads" series. Here the simple idea is that we provide a platform for people to talk openly for 15-20 minutes about their motivations and aims of writing a specific article, that presents original research or a key perspective in the field. This allows authors to gain resonance, and readers to gain insight on an author's more openly expressed thoughts and motivations about their work.
I hope that this provides a useful and meaningful additional resource to what's out there at the moment. If you fancy being a "Talking Head" or have further comments, please contact me,
All the best Paul.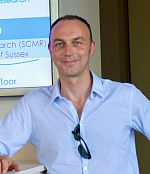 Paul Statham, Director Sussex Centre for Migration Research (SCMR) and Editor-in-Chief Journal of Ethnic and Migration Studies (JEMS) paul.statham@sussex.ac.uk
In the first Talking Head event, Professor Adrian Favell, University of Leeds, develops his most recent work on 'integration', drawing on his recent article Integration: twelve propositions after Schinkel (available in Open Access).
In the second SCMR-JEMS Talking Head, Dr Nicole Ostrand and Professor Paul Statham,SCMR, talk about what motivated them to argue it's time to move beyond the influential "remote control" metaphor in discussions of states' extraterritorial migration controls. Against "remote control", their original findings demonstrate liaison officers, foreign states and officials are agents who importantly shape UK policies and outcomes. You can read more in their open access article: 'Street-level' agents operating beyond 'remote control': how overseas liaison officers and foreign state officials shape UK extraterritorial migration management


In SCMR-JEMS Talking Heads 3, Marta Bivand Erdal (PRIO) and Ceri Oeppen (SCMR) recount the joint intellectual biographical journey that inspired them to want to write on the difficulties of working with the categories "voluntariness" and "forced" at the interface between academia, and the policy and social worlds. Their important (open access) article "Forced to leave? The discursive and analytical significance of describing migration as forced and voluntary" Journal of Ethnic and Migration Studies, 44:6, 981-998, was part of a JEMS Special Issue edited by Jørgen Carling & Francis Collins on "Aspiration, desire and drivers of migration."
In the fourth SCMR-JEMS Talking Head, SCMR Deputy Director Tahir Zaman chats with Ben Rogaly (SCMR) about Ben's motivations for and thoughts on his new book Stories from a Migrant City: Living and Working Together in the Shadow of Brexit (Manchester University Press 2020). Drawing on over one hundred stories and eight years of research in a provincial English city, Ben asks what that city (and indeed England as a whole) stands for in the Brexit era. He argues for the continuing existence of non-elite cosmopolitanism, a central concept in the book and one that he summarises in a recent free online piece in Discover Society and in his response to reviewers in a symposium about the book in the journal Antipode.