SCMR-JEMS International Conference 2021: 'Migration Futures: Which ways forward?'

Registration: https://8scmrjems.eventbrite.co.uk
Bramber House Conference Centre Wed 17 Nov, 9.30-4.30pm
All welcome!
Speakers & topics: Adrian Favell (Leeds) on "critical integration"; Ceri Oeppen (SCMR) & Marta Bivand Erdal (PRIO) on voluntariness in return migration; Jonathan Rigg (Bristol) on migration & development; Elena Fiddian-Qasmiyeh (UCL) on refugees; & Miri Song (Kent) on whitening & race.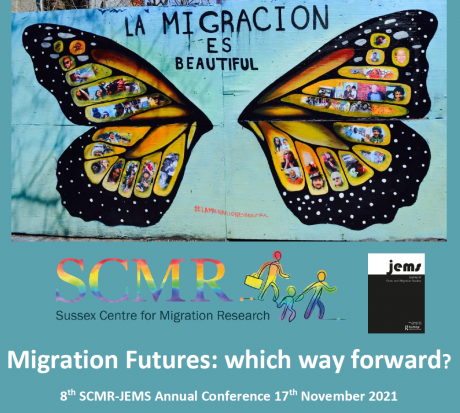 10.00-10.30: Paul Statham (SCMR & Editor JEMS) Welcome and Introduction
10.30-11.15: Jonathan Rigg (Bristol) Connecting migration transitions & development transformations in Asia
11.15-12.00: Miri Song (Kent) Rethinking arguments about expanding the boundaries of whiteness
12-12.30: "Ron Skeldon" & "JEMS" Best MA Migration Dissertation Awards 2020-21 & Presentation of Fotonomads' Virtual Photography Exhibition "Strength of Friendship"
12.30-1.30: Lunch
1.30-2.15: Elena Fiddian-Qasmiyeh (UCL) Displacement and beyond: Refugee-led responses to politically-produced precarities
2.15-3pm: Marta Bivand Erdal (PRIO) & Ceri Oeppen (SCMR) Theorising voluntariness in return migration
3-3.15: coffee break
3.15-4pm: Adrian Favell (Leeds) Immigration, integration and citizenship: elements of a new political demography
4pm: Closing nibbles and drinks
All @Sussex Welcome, if you intend to be present for lunch and most of the day please register (for catering) at Eventbrite: https://8scmrjems.eventbrite.co.uk
Speakers


Jonathan Rigg
Jonathan is Chair of Human Geography in the School of Geographical Sciences at the University of Bristol. Before that he was at the National University of Singapore – where he was Director of NUS's Asia Research Institute. His research focuses on agrarian change in Southeast and South Asia, and ever since his PhD in the early 1980s – undertaken in a pair of villages in Northeast Thailand – he has been interested in the relationships between migration and development. He has undertaken fieldwork in Thailand, Laos, Nepal, Sri Lanka and Vietnam and is currently examining poverty and livelihoods in Brunei. Jonathan is the author of Rural development in Southeast Asia: dispossession, accumulation and persistence (Cambridge University Press, 2020) and More than rural: textures of Thailand's agrarian transformation (Hawaii University Press, 2019). He has also recently co-edited (with Lisa Reyes Mason) People and Climate Change: Vulnerability, Adaptation, and Social Justice (Oxford University Press, 2019) and (with Eric Thompson and Jamie Gillen) The Asian smallholder: transformation and persistence (Amsterdam University Press, 2019).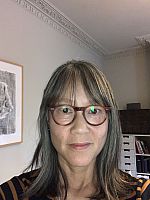 Miri Song
Miri Song is Professor of Sociology at the University of Kent. Her research has examined the experiences of multiracial people and those of their children. She has also written about ethnic identity, race, and how we theorize racism. She is currently completing a Russell Sage Foundation funded project: The Racial Identities and Life Choices of Mixed Heritage People in the United States, with Carolyn Liebler (University of Minnesota).





Elena Fiddian-Qasmiyeh

Elena Fiddian-Qasmiyeh is Professor of Migration and Refugee Studies at University College London, where she is Co-Director of UCL's Migration Research Unit, Director of the Institute of Advanced Studies' Refuge in a Moving World research network across UCL (@RefugeMvingWrld), and co-Editor of the Migration and Society journal. Elena's research is interdisciplinary and participatory in nature, and draws on critical theoretical perspectives, including feminist and Southern theories and approaches. Since the early-2000s, her work has focused on better understanding experiences of and responses to displacement in and from the Middle East and North Africa, with a particular focus on multi-scalar and multidirectional Southern-led responses to forced migration. She is PI of the AHRC-ESRC funded Refugee Hosts project (see www.refugeehosts.organd @RefugeeHosts) and the ERC-funded Southern-Led Responses to Displacement project (www.Southernresponses.org and @SouthernResp), and joint lead of the Baddawi Camp Hub as part of the AHRC Network Plus Imagining Futures project. Her recent publications include The Ideal Refugees: Gender, Islam and the Sahrawi Politics of Survival (Syracuse University Press, 2014), South-South Educational Migration, Humanitarianism and Development: Views from the Caribbean, North Africa and the Middle East, (Routledge, 2015), The Oxford Handbook of Refugee and Forced Migration Studies (co-editor, Oxford University Press, 2014), the Handbook of South-South Relations (co-editor, Routledge, 2018), and Refuge in a Moving World: Refugee and migrant journeys across disciplines (editor, UCL Press, 2020). You can follow her on @FiddianQasmiyeh.






Marta Bivand Erdal
Marta Bivand Erdal is a Research Professor in Migration Studies, at the Peace Research Institute Oslo (PRIO), where she is Co-Director of the PRIO Migration Center. As a Human Geographer she is interested in the impacts of migration and transnationalism in both emigration and immigration contexts. She has published extensively in migration studies and regularly engages with governmental and non-governmental stakeholders.
Ceri Oeppen
Ceri Oeppen is Senior Lecturer in Human Geography and Co-Director of the Sussex Centre for Migration Research at the University of Sussex. Her research explores return migration, (re)integration, transnationalism and community dynamics, with a particular interest in Afghanistan and the Afghan diaspora.








Adrian Favell
Adrian Favell is Chair in Sociology and Social Theory at the University of Leeds, where he directs the Bauman Institute. During 2021-22 he is an invited fellow of the Wissenschaftskolleg zu Berlin. He is the author of various works on migration, multiculturalism, cosmopolitanism and cities, including Philosophies of Integration: Immigration and the Idea of Citizenship in France and Britain (1998), Eurostars and Eurocities: Free Movement and Mobility in an Integrating Europe (2008), a collection of essays, Immigration, Integration and Mobility: New Agendas in Migration Studies (2015), and a work in migration theory, The Integration Nation: Immigration and Colonial Power in Liberal Democracies (2022). Most recently, he has led the UK ESRC project, Northern Exposure: Race, Nation and Disaffection in "Ordinary" Towns and Cities after Brexit. Website: www.adrianfavell.com.
Abstracts
Connecting migration transitions and development transformations in Asia - Jonathan Rigg (Bristol)
In this presentation, I reflect on the connections and intersections between mobility and broader processes of development-as-modernisation. Drawing on work in Thailand, as well as Laos, Nepal, Sri Lanka and Vietnam, I explore how individuals and households navigate development to build a better present and a brighter future for themselves, and for their kin. This, though, happens against the backdrop of 'development'. I want to reflect on how migration changes not just in form, intensity and degree, but also in terms of the underpinning forces that impel or compel movement and the development outcomes that arise from such movements. Throughout, the focus is on individuals and households, and on their motivations and aspirations.
Rethinking arguments about expanding the boundaries of whiteness – Miri Song (Kent)
Debates about the changing racial contours and divides in racially stratified societies increasingly concern debates about a Black v. non-Black divide (especially in North America), as well as debates about the expanding boundaries of Whiteness. In this talk, I will review the thrust of these arguments and pose questions about who is said to enjoy honorary White status, such as some multiracial people. In doing so, I will also reflect upon the concept of Whiteness, and how it is conceived, against the backdrop of various demographic, social and political changes.
Displacement and beyond: Refugee-led responses to politically-produced precarities -Elena Fiddian-Qasmiyeh (University College London)
Refugees are often depicted as passive objects of humanitarian action, awaiting responses provided by states and humanitarian organisations. However, people who have been displaced are always and already responding to protect themselves and others, by responding to the challenges 'of displacement' in addition to multiple and overlapping crises that compound and create new forms of precarity. This paper takes Lebanon as its focus, as a country where Syrians, Palestinians, Iraqis, Kurds and Lebanese alike have been navigating the many insecurities and inequalities created not only by displacement and conflict, but also the multiple vulnerabilities created by the COVID-19 pandemic, the August 2020 Beirut port explosion, and the collapse of the Lebanese economy. Drawing on in-depth research in and about Baddawi refugee camp in North Lebanon, the paper simultaneously traces the ways that refugee-led initiatives have been working to uphold the needs and rights of camp residents (irrespective of nationality markers or legal statuses), whilst also arguing that it is essential to look beyond displacement to understand the complex ways in which precarity is produced, reproduced, and resisted.
Theorising Voluntariness in Return Migration - Marta Bivand Erdal & Ceri Oeppen
The forced-voluntary distinction is a key categorisation in studies of return migration. Like all binaries the reality is usually more complicated than it initially appears. This is reflected in the controversies and concerns surrounding 'Assisted Voluntary Return' programmes; often targeted at migrants without a legal right to stay, meaning many of those who supposedly 'voluntarily' return, in practice have little other choice. Can such returns really be described as voluntary, in any meaningful way? In this paper (part of a forthcoming Handbook on Return Migration edited by King and Kuschminder) we apply philosophical work on voluntariness (e.g. Olsaretti's) to return migration, and suggest that analysing the voluntariness of return requires a full understanding of the context in which decisions are made, including the acceptability of possible alternatives that can be chosen from. We then reflect on the way in which voluntariness, agency, force and coercion can operate at different scales, in different places, and at different stages of the migration experience.
Immigration, Integration and Citizenship: Elements of a New Political Demography - Adrian Favell
The paper offers a critical review of the state-of-the-art in migration studies. It centres on a contrast between established comparative scholarship — elaborating progressive models of immigration, integration and citizenship that reflect the increasingly diverse, migrant-built societies of the North Atlantic West — and a new generation of work in the last decade, influenced by critical, anti-racist and decolonial theory, that vehemently rejects this "Eurocentric" liberal democratic global order and self-image. My reading establishes a bridge between older neo-Weberian approaches to immigration and sovereign nation-state building and newer (or revived) Marxist-Foucauldian accounts. These accent the state-power building effects of bordering, managing and cultivating "diverse" national populations, and its ongoing governmental categorisation of migration and mobilities, citizens and aliens, majorities and minorities, as a key feature of neo-liberal "racial capitalism". It develops these theoretical resources in relation to a discussion of wanted and unwanted migration in advanced liberal democratic economies, "visible" forms of immigration versus "middling" forms of everyday cross-border mobility, and the limits of humanitarian arguments for open borders and expansive asylum rights. The paper sketches an alternate politics to the self-legitimating "political demography" of liberal democracy, relating the ongoing colonial power of its dominant ideas of immigration, integration and citizenship, to the preservation of massive global inequalities between "the West and the Rest".