On April 10th, the Sussex Centre for Migration Research (SCMR) and Journal of Ethnic and Migration Studies (JEMS), based at the University of Sussex, hosted a day international conference attended by more than 120 participants around the theme of 'Negotiating Diversity'. The keynote talk was by Rogers Brubaker (UCLA) on 'Linguistic and Religious Pluralism: Between Difference and Inequality' which will be published in the first issue of JEMS in 2015.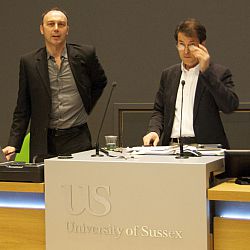 The other lectures were given by Christian Joppke (University Bern) 'Has Multiculturalism Failed?', Paul Statham (SCMR Sussex) on 'Worlds Apart? Public debates and everyday views on Muslims/Islam', Marc Helbling (WZB Berlin) 'How state support of religion shapes religious attitudes to Muslims', Pieter Bevelander (MIM Malmo): 'The influence of spouse and country of origin on naturalization in Sweden' and Els de Graauw (CUNY New York): 'Making immigrants' rights real: nonprofit advocacy with the city bureaucracy'.
The full program of the conference can be found here.