On November 30th, the Sussex Centre for Migration Research (SCMR) and Journal of Ethnic and Migration Studies (JEMS), hosted the fourth SCMR-JEMS International Conference entitled "Migration & Changing Societies: Research Agendas".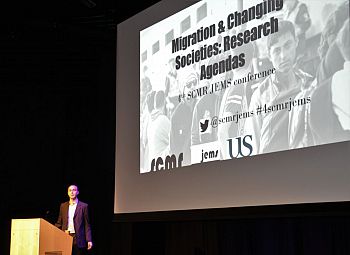 The event was highly successful in profiling Sussex as a major venue for Migration research, with world-leading speakers from Europe, the United States and Asia and attracting for the second year in a row more than 200 participants.
Professor Paul Statham, SCMR Director and Editor-in-Chief of JEMS, introduced the one-day event that aimed to celebrate the very latest cutting-edge global migration research, covering issues of citizenship, migration theories, migration and masculinity, 'colour-blindness', ethnic relations in France and the 'refugee crisis'.
Opening the conference, Professor Statham also launched the Sussex Year of Migration, a University-wide initiative that will promote and help disseminate innovative and influential research on migration conducted at Sussex.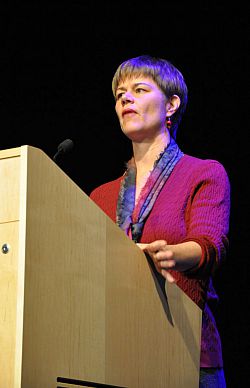 Keynote speakers included immigration expert Professor Irene Bloemraad, from Berkeley, who spoke about why holding citizenship matters, for whom, and in what contexts? In this context she presented her recent research which looks at the difference people make between being an American citizen and feeling American. Professor Marc Helbling, from the WZB Berlin Social Science Center, opened the public discussion by commenting on Professor Bloemraad's presentation
Dr Sandro Mezzadra (Universita' di Bologna) discussed the logistics of contemporary migrations and mobilities pointing at the specific role of social media. Dr Patrick Simon (INED) demonstrated with his latest research the emergence of a 'post-colonial racial structure' in France, thus challenging its 'colour blind' approach to integration. Professor Susanne Choi, from the Chinese University of Hong Kong, showed how rural to urban migration challenged and changed Chinese men's masculinity, while Professor L. Alan Winters, from the Sussex-led Migrating Out of Poverty consortium, suggested there are few short-term economic benefits in rural to urban migration in China. Finally, Professor Heaven Crawley, Centre for Trust, Peace and Social Relations (CTPSR), Coventry University, presented the findings from her recent MEDMIG project, challenging the ethnocentric perspective that has characterised the representation of the 'refugee crisis'.
Audio-recordings and the pdf of all presentations and discussions, as well as the bios of our speakers, can be found below.
Speakers' bios

Irene Bloemraad is Professor of Sociology and the Thomas Garden Barnes Chair of at the University of California, Berkeley. An internationally recognized expert on immigration, she served as a member of the U.S. National Academies of Sciences committee reporting on the integration of immigrants into U.S. society and is a Senior Fellow with the Canadian Institute for Advanced Research.

Dr. Bloemraad studies how immigrants become incorporated into the political and civic life of their adopted countries and the consequences of their presence on politics and understandings of national membership and identity. Her research stands at the intersection of immigration studies and political sociology, with a strong interdisciplinary and international scope, reflected in articles published in sociology, political science, history and ethnic/ migration studies, as well as in books she authored or co-edited such as Rallying for Immigrant Rights (2010), Civic Hopes and Political Realities (2008), and Becoming a Citizen: Incorporating Immigrants and Refugees in the United States and Canada (2006).

Dr. Bloemraad believes that excellence in research and teaching go hand-in-hand. She has been honored with the Berkeley's American Cultures Innovation in Teaching prize (2013), the division of Social Sciences' Distinguished Teaching Award (2012), and the Sarlo Distinguished Mentoring Award (2008) for her work with graduate students. She's also interested in reaching out beyond academia. She has written policy briefs and given presentations to elected officials and high-level government officials, and regularly gives public talks, from students in grade 4 classrooms to seniors in retirement residences.

A proud product of the Saskatoon public schools, Bloemraad received a B.A. (Political Science) and M.A. (Sociology) from McGill University, and her Ph.D. (Sociology) from Harvard University.

Susanne Choi Yuk Ping is Professor at the Department of Sociology, the Chinese University of Hong Kong. Her current research interests include migration, gender, family, and sexuality. She has written extensively on issues such as migrant labour, migrant families, and cross-border marriages. Her articles were published in American Journal of Sociology, Journal of Marriage and Family, International Migration Review, The China Quarterly, Social Science and Medicine, Violence against Women, Culture, Health and Sexuality, Journal of Family Issues, Journal of Interpersonal Violence, Sociology of Health and Illness, Human Relations, American Behavioural Scientist, and British Journal of Sociology.

Her most recent publication is Masculine Compromise: Migration, Family and Gender in China (University of California Press, 2016, co-authored with Peng Yinni). Drawing on ethnographic and interview data, the book examines the effect of mass rural-to-urban migration on family and gender relationships, with a specific focus on changes in men and masculinities.

Professor Heaven Crawley FAcSS, Chair in International Migration, Centre for Trust, Peace and Social Relations (CTPSR), Coventry University.

Heaven Crawley is Professor of International Migration at Coventry University's Centre for Trust, Peace and Social Relations where she leads a team of researchers working on issues of migration, displacement and belonging. Heaven was previously head of asylum and immigration research at the UK Home Office and Associate Director of the Institute for Public Policy Research (IPPR). She joined Coventry University from Swansea University where she was Director of the Centre for Migration Policy Research.Heaven has written and published extensively on a wide range of asylum and immigration issues including the causes of forced migration to Europe, gender issues in procedures for Refugee Status Determination, access to legal advice and representation, public attitudes towards asylum and immigration issues and children's experiences of immigration controls, including detention, guardianship and the process of age assessment. Heaven is currently leading a team of researchers from the Universities of Coventry, Birmingham and Oxford on the ESRC-funded MEDMIG project which explores the dynamics of migration in the Mediterranean region and the complex factors affecting refugee and migrant decision-making in the context of the current European 'crisis'.

Marc Helbling is Professor in political sociology at the University of Bamberg and a Research Fellow at the WZB Berlin.

His research fields include immigration and citizenship policies, nationalism, xenophobia/islamophobia, the accommodation of Islam and right-wing populism.

His work has appeared in political science journals (e.g., Comparative Political Studies, European Journal of Political Research, West European Politics), sociology journals (e.g., European Sociological Review, Social Forces) and migration journals (Ethnic and Racial Studies, International Migration Review, Journal of Ethnic and Migration Studies). He has edited a volume on "Islamophobia in the West" (Routledge) and co-authored a book with Hanspeter Kriesi, Edgar Grande et al. on "Political Conflict in Western Europe" (Cambridge UP).

Sandro Mezzadra teaches political theory at the University of Bologna and is adjunct fellow at the Institute for Culture and Society of the Western Sydney University. He is currently visiting research fellow at the Humboldt University, Berlin (BIM – Berliner Institut für empirische Migrations- und Integrationsforschung.

In the last decade his work has particularly centered on the relations between globalization, migration and political processes as well as on postcolonial theory and criticism. He is an active participant in the 'post-workerist' debates and one of the founders of the website Euronomade (www.euronomade.info).

Among his books: Diritto di fuga. Migrazioni, cittadinanza, globalizzazione ("The right to escape: Migration, citizenship, globalization", ombre corte, 2006), La condizione postcoloniale. Storia e politica nel presente globale ("The postcolonial condition: History and politics in the global present", ombre corte, 2008) and Nei cantieri marxiani. Il soggetto e la sua produzione ("In the Marxian Workshops. The Subject and its Production", Manifestolibri, 2014). With Brett Neilson he is the author of Border as Method, or, the Multiplication of Labor (Duke University Press, 2013).

He has published widely on the areas of migration, postcolonial theory, contemporary capitalism, Italian operaismo and autonomist Marxism. He recently completed a book with Brett Neilson, Border as method, or, the multiplication of labor (2013, Duke University Press). His writings have been translated into ten languages: Italian, French, German, Spanish, Finnish, Greek, Slovenian, Portuguese, Chinese and Japanese. He is currently working on the FP7 European project MIG@NET Transnational Digital Networks, Migration and Gender.

Patrick Simon is a senior researcher at the public institute INED (National Demographic Institute, Institut National d'Etudes Démographiques) and a fellow at the Center for European Studies at Sciences Po.

A social demographer, he studies social and ethnic segregation in French cities, discrimination processes and anti-discrimination policies, and the integration of ethnic minorities in European countries. His most recent research project, Social mobility and minorities, explores migrant and migrant descendant living conditions and social trajectories and compares them with the mainstream population. His research has been widely published in international peer-reviewed journals including E

thnic and Racial Studies; Economie et statistique; International Migration Review, Revue Française de Sociologie, Population, French Politics, Culture and Society

. His most recent books are

Social statistics and Ethnic Diversity: Cross-National perspectives in classifications and identity politics

(with Victor Piché and Amélie A. Gagnon. 2015, Springer) and

Fear, Anxiety, and National Identity: Immigration and Belonging in North America and Western Europe

, (with Nancy Foner, 2015, Russel Sage Foundation).

L Alan Winters CB is Professor of Economics in the University of Sussex and CEO of the Migrating Out Of Poverty Research Programme Consortium.

Alan Winters is a leading specialist on the empirical and policy analysis of international trade, especially in developing countries, and has recently also worked on migration, the brain drain and economic growth. He has published over two hundred and forty articles and chapters and thirty books in areas such as regional trading arrangements, non-tariff barriers, European integration, transition economies' trade, international labour migration, agricultural protection, trade and poverty, and the world trading system. He has also published on small economies, global warming, pricing behavior and econometrics. His current programme includes work on migration, trade and poverty, growth and China and the World Trading System.

Key-note, Professor Bloemraad, '(How) does citizenship matter?' With comments by Professor Helbling

Dr Sandro Mezzadra, 'Logistics, Mobility and Migration'

Coming soon

Dr Patrick Simon, 'Discriminations in a colour-blind society'

Dr Patrick Simon

Professor Susanne Choi, 'Migration and Masculinities'

Prof Susanne Choi

Professor Alan Winters, 'Is changing jobs or changing places that matter for income?'

Prof Alan Winters

Professor Heaven Crawley, 'Between the devil and the deep blue sea'

Prof Heaven Crawley