The SCMR, in collaboration with Journal of Ethnic and Migration Studies (JEMS), hosted its Second Annual International conference titled "Frontiers in Comparative Migration Research" on March 11th, 2015. The event was successful with eminent speakers from Europe and the United States and more than 90 participants. It succeeded the two-day Migration Graduate Conference.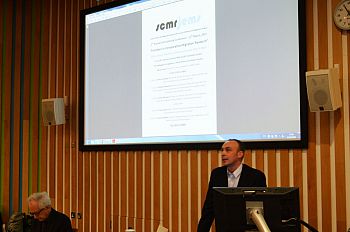 The one-day conference aimed to showcase contemporary cutting-edge comparative research on migration from a range of disciplines including sociology, political science, human geography, gender studies and wellbeing. Professor Paul Statham, SCMR Director, introduced and chaired the event. The keynote speaker was Professor Richard Alba, Distinguished Professor in Sociology at The Graduate Center, CUNY, who spoke on "The challenges of integration in North America and Western Europe". Professor Adrian Favell, Sciences Po Paris, provided a commentary on Professor Alba's lecture. Professor Alba's talk and his exchange with Professor Favell will be published in JEMS in the first issue of 2016. The day was completed by presentation by Professor Gokce Yurdakul (Humboldt Berlin), Dr Rahsaan Maxwell (University of North Carolina at Chapel Hill), Dr Antje Ellermann (University of British Columbia), Dr Claire Dwyer (University of Central London) and Professor Charles Watters (Sussex). You can see and hear all the presentations and discussions below.
The conference's program can be downloaded here .