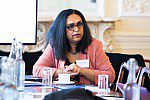 Prof
Priya Deshingkar
Biography
Professor Priya Deshingkar is Principal Investigator of three research programmes
The £8.64 million DFID funded Migrating out of Poverty Research Consortium,
The Capitalising Human Mobility for Poverty Alleviation and Inclusive Development project in Myanmar (CHIME)
Research in Myanmar under The British Academy Tackling Slavery programme
Her research focuses on migration and poverty with a focus on precarity and agency, migration brokerage and the migration industry, trafficking, modern slavery, migration and development.
As Research Director of MOOP, Priya has played a key role in designing and overseeing mixed methods research in five global regions: South and Southeast Asia as well as East, West and Southern Africa where she has worked closely with the Asia Research Institute in Singapore, The Centre for Migration Studies in Ghana and The African Centre for Migration and Society in South Africa. She has also developed a strand of work within the consortium on the migration industry which has resulted in path-breaking research on brokerage in the migration of domestic workers in Ghana and brokerage in the migration of low skilled construction workers from Bangladesh to Qatar.
As the PI of the CHIME project, Priya has designed and led mixed methods research in four regions of Myanmar which will yield unique evidence on migration drivers and process in the country.
Priya holds a PhD from the Institute of Development Studies and is an internationally recognised authority on internal migration. She has played a key role in influencing the global policy discourse on internal migration and development. Her most recent book is Circular Migration and Multilocational Livelihood Strategies in India (co-edited with John Farrington, 2009). Until 2009, Prof Deshingkar was Research Fellow at the Overseas Development Institute.
Role
Principal Investigator, Migrating out of Poverty Research Programme Consortium; Research Professor, School of Global Studies
Principal Investigator and Qualitative Research Lead, Capitalizing Human Mobility for Poverty Alleviation and Inclusive Development for Myanmar (CHIME)
Principal Investigator British Academy/DFID funded project on Modern Slavery in brokered migration for domestic work and construction work in Ghana and Myanmar