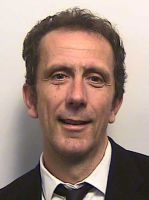 Prof
Martin Evans
Post:
Professor Of Modern European History (History)
Other posts:
Chair of Steering Committee (The Middle East and North Africa Centre at Sussex)
Location:
ARTS A A169
Email:
M.J.Evans@sussex.ac.uk

Telephone numbers
Internal:
7011
UK:
01273 877011
International:
+44 1273 877011

Research expertise:
download vCarddownload vCard to your mobile
Biography
Martin Evans is an historian of empires whose work focuses on how empires begin, how they rule, how they are resisted, how they end and their complex aftermaths. His research focuses on the political, social and cultural consequences of empires through the example of the French Empire in general and modern Algeria in particular. He completed his degree in History and French at the Sussex University in 1986 before going on to do a doctorate on the French Resistance to the Algerian War 1954 – 62 with Professor Roderick Kedward, also at Sussex University. He taught for twenty-one years at Portsmouth University where he was promoted to Professor of Contemporary History in 2005. He was a Visiting Professor at the University of Sydney in 2006. He joined the History Department in September 2012.
Role
Professor of Modern European History. He is taking a lead role in the Resistance Centre Initiative and the Middle East and North African Centre Initiative.
Community and Business
His most recent media work includes being interviewed by Fergal Keane for the BBC Radio 4 series on the history of terrorism Terror Through Time on 16 October 2013.
He was also interviewed on the life of the Algerian nationalist Ahmed Ben Bella on BBC Radio 4's The Last Word on 22 April 2012. He has also been interviewed on Algerian history and politics for the BBC World Service, Radio France Internationale, Australian National Radio and New York Public Radio. His research has been profiled in Algerian national press following a public lecture at the in Oran Algeria in February 2014.
He has contributed to the BBC History Magazine, The Guardian, The Independent, The New Statesman, The Times Higher Education Supplement and Literary Review. He is also on the editorial board of the monthly magazine History Today and is a regular contributor. His most recent article examined the life and work of the Algerian born novelist Albert Camus. He was also interviewed on the History Today Podcast in June 2012 about his article on history of Algerian Jews. He is also editing a series with the e-zine Open Democracy on Algeria and the Arab Revolutions.
He also provides advice on a regular basis on Algeria to the Foreign and Commonwealth Office and the Ministry of Defence.
He also contributed to the translation of the El Gusto Orchestra of Algiers CD which came out in 2007. This is a unique piece of music that showcases the Muslim-Jewish musicial tradition from the Algiers region.