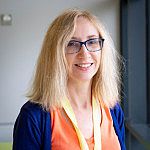 Dr
Elizabeth Craig
Biography
Qualifications
PhD 2006, Queen's University Belfast
PGCHE 2005, University of Sussex
LLM (by research) 2000, University of Sheffield
BA (Hons) (Law with German) 1997, University of Sheffield
Employment History
2014- senior lecturer in law, University of Sussex
2003- lecturer in law, University of Sussex
2002 teaching assistant, University of Ulster
1999-2001 teaching assistant, Queen's University Belfast
1999-2000 research assistant, Queen's University Belfast
Role
Current Roles
Senior Lecturer in Law
Education Lead (Law, UGT+)
Convenor LLB Law
Former Roles at Sussex
University Level
Member of University Council (Aug 2014 - July 2017)
Member of University Senate (Aug 2011 - July 2015)
School of Law, Politics and Sociology
Acting Director of Doctoral Studies (Spring 2017)
Deputy Chair of the LPS Exam Board (2013-2015)
E-submission champion (2014-2015)
Law
Deputy lead Education (2017-18) and Education Lead (2019)
Convenor LLM International Human Rights Law (2015-2018)
Chair of LLM Curriculum Review 2016-17
Deputy Director Sussex Centre for Human Rights Research (2015-2016)
Law Assessment Convenor (2010-2015)
Previously I was also the LLB 'Law with' convenor and a law admissions tutor.
External Examining
LLB University of Exeter, 2014-2019
Community and Business
My work has been presented to a range of different audiences. Non-academic audiences include the Northern Ireland Council for Ethnic Minorities, the Northern Ireland Human Rights Consortium and the Galician Council of Culture.
Other Indicative Activity
2017 Contributed to academic meeting with members of the Advisory Committee under the Framework Convention for the Protection of National Minorities during their State visit to the UK
2016 key-note speaker at the EU-China Conference on Human Rights (focus on minority rights), Southwest University of Political Science, Chongqing
2013-14 Research commissioned by the Northern Ireland Human Rights Commission on cultural rights in post-conflict societies, findings presented and discussed at international conference on this topic organised by the Commission in cooperation with the UN Special Rapporteur in the field of Cultural Rights with recommendations aimed at UN bodies, states, ngos and other stakeholders.
2009 Legal Expert, Council of Europe Mission to Macedonia
Oct 07-Mar 08 (PT) Legal Advisor to the Northern Ireland Bill of Rights Forum (Culture, Identity and Language Rights working group)