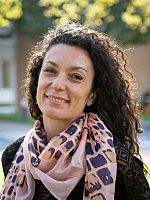 Dr
Sarah Scuzzarello
Biography
Sarah Scuzzarello (PhD Lund University) is a Research Fellow in Cross-national Comparative Politics at the Sussex Centre for Migration Research (SCMR). Her research focuses mainly on comparative politics with a focus on the politics of citizenship, migration and integration. Sarah's work is interdisciplinary, drawing from politics and political psychology.
Over the last decade, Sarah has established a research programme focussed on how state institutional and policy approaches to migration and 'integration' shape migrants' identification processes and life chances, often working within a cross-national comparative framework. More recently, she has started an additional strand of research on retirement migration of Westerners to Thailand. For this, she was awarded a Harry Kroto Fellowship in January 2017 by the University of Sussex.
Sarah's publications derive from the findings of projects, that she has designed, implemented and led, and for which she has received external funding. She has published in leading academic journals (e.g. Journal of Ethnic and Migration Studies; Political Psychology; Ethnic and Racial Studies), and contributed to volumes published by leading academic presses, including On behalf of Others. The morality of care in a global world, published by Oxford University Press, for which she is the first named editor.
Prior to joining the SCMR, Sarah was Associate Lecturer at the University of Surrey (2014); a Swedish Research Council Post-doctoral Fellow at City university London (2011-2013), a Lecturer in International Relations at Lund University (2010-2011) where she also obtained her PhD in Politics (2010, with distinctions).
During the Spring semester 2017, Sarah was a Visiting Scholar at the Department of Sociology, Columbia University.