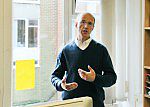 Prof
Ben Rogaly
Biography
Ben's latest book Stories from a migrant city: living and working together in the shadow of Brexit will be published by Manchester University Press in March 2020. It builds on the two main themes of his research as set out below.
Listen to Ben's professorial inaugural lecture given at Sussex in May 2018, 'Food-work city': Oral histories of and for changing places.
Watch the film Workers researched and co-produced by Ben with Director Jay Gearing as part of the Creative Interruptions Project (read Jay and Ben's blog for The Sociological Review 'Workers': life, creativity and resisting racial capitalism and see below for more information on the project). Watch the trailer for the film.
Listen to Surviving Society podcast's interview with Ben in December 2018.
Read Ben's chapter 'Re-scaling citizenship struggles in provincial urban England' published in June 2019 in Jonathan Darling and Harald Bauder's book Sanctuary cities and urban struggles: rescaling migration, citizenship and rights.
Read Ben's August 2015 article in Society and Space in which he questions the way discussions of migration and mobility have commonly been framed, arguing for greater attention to the role of structural inequalities in shaping both mobility and fixity.
Read Ben's short November 2016 piece 'Contesting neoliberal common sense: bottom-up history and the struggle over urban space' published in artist Jessie Brennan's book on Peterborough's Green Backyard.
1 Social and historical geographies of identity, 'race', place, class, faith and migration in England
Ben is currently Writer-in-Residence at MetalPeterborough.
Read the multi-authored symposium on 'Brexit, race and migration' published in December 2018 or skip straight to Ben's contribution
Read Ben's article (with Clare Rishbeth, published in October 2017) on benches in public space, exploring themes of conviviality, self-care and bench design. This recently completed research involved case studies in Woolwich and Sutton as part of The Unsociable Bench project, led by Clare, a landscape architect at the University of Sheffield, in collaboration with film-maker Esther Johnson, the Greenwich Inclusion Project and the Young Foundation.
Listen to Ben talking about Englishness on St George's Day 2014 (BBC Radio Sussex). Read a report on his contribution to a Birmingham University roundtable on inequality and superdiversity.
From 2011 to 2013 Ben held an Arts and Humanities Research Council (AHRC) Fellowship entitled Places for All? A Multi-Media Investigation of Citizenship, Work and Belonging in a Fast-Changing Provincial City. The Fellowship, which ran from March 2011 until November 2013, formed part of the Royal Society of Arts' Citizen Power in Peterborough Programme. In collaboration with arts practitioner colleagues, Ben explored the commonality of multiple place attachments within and across national borders, using oral history, film, photography, and theatre. The Fellowship also involved an investigation of changing employment patterns in Peterborough in the context of the building of new residential areas and relatively high levels of inward migration.
Ben's earlier work with historian Becky Taylor used archival, ethnographic and oral history evidence to disrupt the popular idea that white working class communities are fixed in place and threatened by the arrival of immigrants and people of colour. This research, mostly based in the English provincial city of Norwich, was funded by the Economic and Social Reserach Council (ESRC)'s Identities and Social Action programme. One of the key arguments of Ben and Becky's subsequent book Moving Histories of Class and Community: Identity, Place and Belonging in Contemporary England (Palgrave, 2009) is that white working-class emigration, and the continued stretching of 'indigenous' lifeworlds both within and across national boundaries, have influenced contemporary debates on 'race' and immigration. They also question the ethnicization of class in these debates (see their contribution to the collection on Integration, Disadvantage and Extremism edited by David Feldman and Ben Gidley). A second key argument stresses the importance of relationality and ambivalence in subjective experiences of class and place, not least in schools and in universities. The book was drawn on in a Guardian article by Lynsey Hanley, who also wrote the Foreword to the 2011 paperback edition.
Read Ben and Becky's discussion of the relations between a British university and its working-class neighbours; and a follow-up piece by Ben on class and spatial justice, drawing on his collaboration with Becky as well as on his AHRC Fellowship research in Peterborough.
Ben was co-investigator in a further exploratory project, funded by the research councils' Connected Communities programme, called Sacred Communities: Connected Practices Across Place and Time. This research - a collaboration with anthropologist Abby Day - included a review of transcripts from a total of 143 interviews, conducted as part of Ben and Becky's previous work in Norwich and Abby's in North Yorkshire. The research aimed to produce new insights on the everyday, embodied practices of faith and community, focusing on the ways such practices stretch (and change) across space and time.
2 Political economic geographies of temporary migrant work in India and the UK
Ben is conducting further research with current and former food factory and warehouse workers in Peterborough as part of the AHRC-funded project Creative Interruptions (2016-19), led by Sarita Malik at Brunel University. With Director Jay Gearing of Red 7 Productions he researched and co-produced Workers, a film in ten chapters narrated by research participants.
Read Jay and Ben's blog about making the film published in The Sociological Review
See Ben's review of Judy Fudge and Kendra Strauss' book Temporary work, agencies and unfree labour for Society and Space Open Site.
Listen to both Ben and Kendra discussing the topic of gang labour on BBC Radio 4's Thinking Allowed.
Read Ben's Open Democracy blog on the use of a discourse of slavery to influence immigration politics.
Ben's research on work-place regimes for temporary migrant workers has focused mainly on the agricultural sector. In the UK he has carried out in-depth interviews with employers, labour contractors, workers and food retailers, and revealed how the concentration of market power at the retailer end of the food supply chain has led to the intensification of work for people employed in food production.
Ben's multi-scale research insists on simultaneous attention both to the political economic causes of inequality in capitalist work-places, and to workers' subjectivities, including various forms of resistance. He has attempted to extend writing on labour geographies, which previously focused largely on the agency of workers who are organised in unions, to consider the specific spatiotemporalities of workers hired for just a few weeks or months at a time and who often rely on employers for both accommodation and transport. Ben recently worked with Siobhan McGrath to contribute insights from their separate research projects towards innovative and critical approaches to teaching on unfree labour.
Ben also collaborated in research on temporary migrant workers in India with colleagues Janet Seeley, Abdur Rafique and Deeptima Massey. A book of research participants' life histories Known Face, Unknown Life: Voices of Temporary Migrants in West Bengal, edited by Abdur Rafique, has been published in Bengali. An English translation is also available.