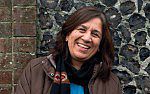 Prof
Maya Unnithan
Biography
Professor Maya Unnithan is a Social and Medical Anthropologist and Director of the Sussex Centre for Cultures of Reproduction, Technologies & Health (CORTH). Maya received a Ph.D (1991) in Social Anthropology from the University of Cambridge and holds degrees in Sociology (MA) and Economics (BA Hons). She has taught at the University of Sussex since 1991.

Over the past thirty years Maya has been conducting research in India, with a particular focus on reproductive health and rights. Her long-term research in North-West India is on caste, kinship and gender inequalities further specializing in childbirth, infertility, sex selective abortion, surrogacy, migrant reproductive health, maternal health inequalities and sexual reproductive health rights. Her recent, ongoing work is on blood related conditions such as anaemia in India and on prenatal sex-selection among Indian, Pakistani and Bangladeshi families in the UK.
Maya is currently the qualitative lead on a major Economic and Social Science Research Council (ESRC) funded study of son preference and reproductive-decision making among British South Asian families. This research explores how gender values migrate across borders and shift over generations, and the implications this has for access to reproductive healthcare in the UK. From 2018-2020 Maya is co-ordinating a CORTH-led international network on Narrating Blood, along with Professor Janet Boddy (CIRCY, Sussex). The network aims to develop cross-cultural research and intervention into blood-related reproductive and adolescent health and care-economies in India, Bangladesh, Ghana and the UK. Linked to this network Maya is co-investigator on an ESRC standard grant on 'Inherited blood disorders, globalisation and the promise of genomics: An Indian case-study' (2016-2019). Previously Maya has been principle investigator of an ESRC funded research project on civil society understandings of human rights as applied to sexual, maternal and reproductive health in India (2009-2012).
External to the University, Maya has served as a member of the WHO steering committee on the impact of human rights-based evidence on maternal and child health (2012-2013) and as a member of the WHO expert meeting on Law, Policy and Human Rights in the Safe Abortion Guidance (2018). Maya is a fellow of the Royal Anthropological Institute of Great Britain and Ireland and member of Council. She is currently Chair of the Medical Anthropology Committee of the Royal Anthropological Institute.
Role
Director, Centre for Cultures of Reproduction, Technologies and Health (CORTH)