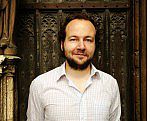 Prof
Matthew Dimmock
Post:
Professor of Early Modern Studies (English)
Other posts:
Director of Research and Knowledge Exchange (School of English)
Professor of English (Centre for Early Modern and Medieval Studies)
Location:
ARTS B B333
Email:
M.Dimmock@sussex.ac.uk

Telephone numbers
Internal:
7663
UK:
01273 877663
International:
+44 1273 877663

Research expertise:
download vCarddownload vCard to your mobile
Biography
From Yorkshire to Northamptonshire to rural Lincolnshire, I eventually ended up at the University of Leeds and completed a BA and an MA in the English Department there. A year of work followed, after which I decided to return to academia, and spent three years at Royal Holloway, University of London, studying for a PhD. This was awarded towards the end of 2002, and my thesis explored the ways in which Islam and the Ottoman Empire were understood in early modern English culture - particularly how the 'terrible Turk' was represented on the professional stage. Almost immediately upon completing the PhD I took up a Visiting Scholarship at the University of Leiden in The Netherlands. For three and a half cold but productive months I skated on canals, took courses in early Dutch, worked in the National Archives in The Hague, and taught on the MA in European Expansion. Upon my return I continued researching as Visiting Scholar at the Centre for Editing Lives and Letters at Queen Mary, University of London, for a few months in the summer of 2003, after which I took up a position as Lecturer in English Literature at the University of Sussex. I became Professor of Early Modern Studies in early 2013.
I've moved all over Sussex in search of a sea view, and am now based in lovely Seaford, where on tiptoes I can just about catch a glimpse of it from an attic window.
My new book Elizabethan Globalism is newly published by the Paul Mellon Centre with Yale University Press - https://yalebooks.co.uk/display.asp?k=9781913107031. It has been described as 'elaborate and absorbing', 'compelling… a powerful story', 'better than anything you or I could have made up' by Timothy Brook in the TLS, and was book of the week in the Times Higher, where Anne Hughes found it to be 'an excellent and timely contribution'. It was also named as one of the books of 2019 by NPR, where Genevieve Valentine celebrated it as an 'historical treasure hunt that shows how a single artifact contains underpinnings of an empire' and which 'offers fascinating insight into how political myths are made'.
I've just started researching a new project centred on the life and works of the Elizabethan navigational genius and all-round fascinating man of the world John Davis.
Role
Professor of Early Modern Studies
Director of Research and Knowledge Exchange