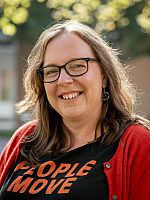 Dr
Ceri Oeppen
Biography
Dr Ceri Oeppen returned to Sussex as a Lecturer in Human Geography in October 2011, having completed her PhD here in 2009. Prior to her return to Sussex, Ceri worked as an Associate Research Fellow at the University of Exeter and a Senior Teaching Fellow at the School of Oriental and African Studies (SOAS). Ceri has a DPhil from Sussex (ESRC-funded), an MSc in Social Research Methods (Sussex, distinction) and a BSc in Geography (UCL, first class).
In 2014 she was appointed Global Fellow at the Peace Research Institute Oslo (PRIO), in recognition of her work on Afghanistan and the Afghan diaspora, particularly her work with the PRIO-led international project, 'The Possibilities and Realities of Return Migration' (PREMIG).
Ceri is best known for her work on migrant transnationalism and integration, with particular reference to the Afghan diaspora, and has carried out ethnographic fieldwork with Afghans in London, California, New Delhi, Peshawar, Oslo and Afghanistan. She is co-editor of 'Beyond the "wild tribes": Understanding modern Afghanistan and its diaspora' (2010, University of Columbia Press).
Role
Lecturer in Human Geography
Undergraduate Admissions Tutor for Geography
Global Fellow, Peace Research Institute Oslo (PRIO)
Community and Business
Ceri is a member of the Independent Advisory Group on Country Information (IAGCI), which operates under the remit of the Independent Chief Inspector of Borders and Immigration. She is also a member of the OCR consultative forum on A-Level reform (geography).
Ceri has a range of experience presenting academic research to a wider audience, in text or orally. She regularly gives presentations and training sessions on issues relating to migration, asylum, the Afghan diaspora, return migration and migration and development to public and policy-maker audiences. She is author of a children's textbook called 'Hopes, needs, rights, and laws: How do governments and citizens manage migration and settlement?'