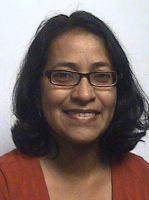 Dr
Samantha Syiem-Clark
Biography
In 2002 , Samantha won the International Ford Foundation Fellowship ( 2002-2005) to complete her Doctoral Programme in Development Studies at the University of Sussex. Her Thesis is on ' Community Development among the Khasis of Meghalaya' , On this thesis she looks at the question of Identity and the conflict between the two powerful structures involved in community development in the state, i.e. the 'traditional institution' that co-exist along side with the modern bureaucratic Government.
In 2012, Samantha was made Fellow in Higher Education by the Institute of Higher Education Academy, United Kingdom.
Prior to her pursuing her Doctoral study, Samantha also won the University Grants Commission ( UGC,India) Junior Research Fellowship to complete her MPhil Degree in Sociology from North Eastern Hill University Shillong. She also qualified for the National Eligibility in Teaching Exams ( UGC) in 1994. Along side her studies, Samantha was involved in setting up the Meghalaya Desk Branch of a national NGO, Bosco Reach Out, in Shillong , India and held the position of Head Meghalaya Desk from 1997-1999.,one of the main objective of this NGO is the setting up of Self Help Groups and Micro Credit Programmes in 200 villages in Meghalaya and Assam. In 2000, she went on to Co-found a School for the Under-priviledge ( now called Providence) in the city of Shillong.
While pursuing her PhD, Samantha aslo worked part time with an organisation , Asphaleia , as an Outreach worker for Unaccompanied young asylum children.
Role
Associate Tutor ( International Development, School of Global studies, University of Sussex and INternational Summer School): 2005- till now on various courses:
Issues in International Development
International Development: Ideas and Actors
Race, Ethinicity and Nationalism
Culture and Development
Understanding Global Cultures
Convening a Course in International Summer School on Culture , Social Change and Development.
Also as a part time lecturer ( 2009-10) on
Concepts in Social Development ( Masters in Social Development)