PEER Hub Launch Events in Africa and Asia
By: Farzana Bardai
Last updated: Friday, 26 March 2021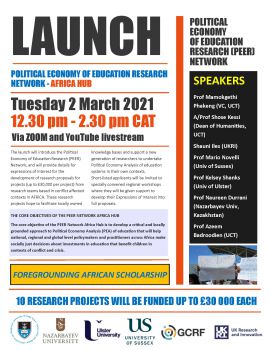 The GCRF PEER Network is launching in Africa and Central Asia
The GCRF-funded Political Economy of Research Network (PEER) is holding two launch events this week in Africa and Central Asia, the two major research hubs of the PEER Network. The online events will launch calls for new and critical research on the political economy of education systems in Africa and Central Asia, encouraging the development of research proposals by researchers located in those regions.
The events will also profile the new project website and PEER Learning Platform, an innovative and evolving open access course on the political economy of education in contexts of conflict and crisis, which brings together freely available lectures, publications, research tools and recorded material by scholars and practitioners around the world.
The PEER Network is a £2 million Global Challenges Fund (GCRF) project, awarded by UK Research and Innovation (UKRI). It is led by co-Principal Investigator, Professor Mario Novelli at the University of Sussex, in partnership with Ulster University, the University of Cape Town and Nazarbayev University in Kazakhstan. The 3-year project aims to strengthen political economy analysis of education systems in countries affected by conflict or crisis and support the development of critical researchers and practitioners in the field.
As a field that has been driven by agencies and researchers located in the global north, the PEER Network is developing a critical and locally grounded approach to Political Economy Analysis (PEA) of education that prioritises diverse and critical perspectives from the global south. Professor Mario Novelli said: "There is an urgent need for more quality political economy analysis of education contexts in conflict and crisis. By commissioning southern-led research and moving beyond paywalls and inequalities of access to knowledge resources, we can work together to pluralise the field and open it up an 'ecology of knowledges' and diversity of peoples."
Professor Mario Novelli and Research Fellow Helen Murray at the Centre for International Education are warmly inviting colleagues to join the launch events this week by registering at the details below, as well as encouraging all to share as widely as possible:
Africa Hub Launch Event: Tuesday 2 March 10.30am-12.30pm (UK Time, GMT)
Our launch event for the Africa hub will take place on Tuesday 2 March, from 12.30pm – 2.30pm (CAT).
Register your interest for the event by emailing Isha Dilraj: dlrish001@myuct.ac.za
The documents below provide more information about the event speakers and schedule:
Central Asia Hub Launch Event: Thursday 4 March 9.50am – 12pm (UK Time, GMT)
Our launch event for the Central Asia hub will take place on Thursday 4 March, from 3.50pm-6pm (GMT+6; East Kazakhstan Time). This webinar will be in English with synchronous translation into Russian language.
You can register using the following Zoom link: https://nu-edu-kz.zoom.us/webinar/register/WN_fiVx5R5uSHCcAlafFd8PvQ
The documents below provide more information about the event speakers and schedule:
Both events will be recorded and posted on our new website: Website: http://peernetworkgcrf.org/
For further information please contact:
Helen Murray, Research Fellow, Political Economy of Education Research Network (PEER)
Email: h.murray@sussex.ac.uk
Website: http://peernetworkgcrf.org/
PEER Learning Platform: https://peernetworkgcrf.org/resources/learning-platform/
Twitter: @PEERNetworkGCRF
Further information: http://peernetworkgcrf.org/