Migration is a critical issue of our times, and a major interdisciplinary field of enquiry in the social sciences; it epitomises the notion of 'global studies'.
For more than a decade, SCMR has led the way in providing rigorous, evidence-based research to document the richness and diversity of the 'migration experience'. Our research findings have multiple purposes: to contribute to the body of academic knowledge on migration; to counter ill-informed views and prejudices over migration; and to provide the policy community with relevant data. With increasing globalisation, migration has become a key element in north-south relations, and in the domestic politics of many developed and developing countries. It is also central to issues of identity and citizenship, and to the formation of pluralistic, hybrid and cosmopolitan societies. Whilst the dynamism of some migration streams may have stalled during the current global recession, debates over migration will undoubtedly continue in the future.
SCMR Newsletter
Download the latest edition of our newsletter:
Sussex Centre for Migration Research - Newsletter No. 1, Summer 2014 [PDF 284.44KB]
The Immigration Debate at the Brighton Festival
On Saturday May 17th, the Dome Theatre hosted a 90 minute panel discussion on "The Immigration Debate: A World on the Move: the long view of migration' attended by more than 400 people as part of the Brighton Festival. The Immigration Debate Chaired by writer and broadcaster Simon Fanshawe offered a broad perspective, looking at what has driven migration historically as well as examining the forces that will drive it in the future. The panel included Director of the Sussex Centre for Migration Research Professor Paul Statham; The Times columnist and author David Aaranovitch; the former chair of the Equality and Human Rights Commission Trevor Phillips; and the historian and slavery expert Dr Madge Dresser (UWE). If you missed the event you can see a recorded stream of the debate or read the review in the Argus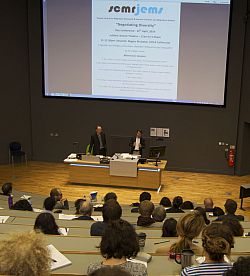 "Negotiating Diversity": 1st Annual International Conference hosted by the Sussex Centre for Migration Research & Journal of Ethnic and Migration Studies 2014
On April 10th, the Sussex Centre for Migration Research (SCMR) and Journal of Ethnic and Migration Studies (JEMS), based at the University of Sussex, hosted a day international conference attended by more than 120 participants around the theme of 'Negotiating Diversity'.