You will be well supported during the transition from school or college to degree level mathematics and will build on your knowledge of pure and applied mathematics.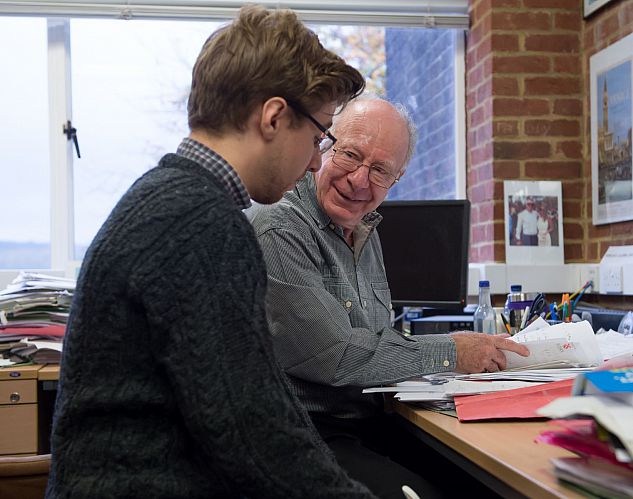 How will you learn and be supported?
You will develop your understanding in lectures, workshops and office hours.
All modules are supported by workshops in which you can discuss topics raised in lectures or receive help in tackling problems.
All students meet with their Academic Advisors periodically throughout their course.
You will receive regular feedback on your work from your workshop tutor.
All faculty have 1 office hour per module per week, but are generally available throughout the week when you can call in for further help and advice either individually or as a group.
Improve your academic knowledge and university life skills with the MPS mentoring scheme, providing all students with support on a range of academic issues.
If you take a 'with' course such as Mathematics with Finance, many modules in these departments are taught in seminar groups and assessed by a series of essays or presentations.
What will you achieve?
Knowledge of the core areas of pure and applied mathematics and statistics. Advanced knowledge in the areas you choose.
Use of a variety of statistical and mathematical techniques for problem solving and modelling.
Use of industry-standard software provides you with advanced skills in handling numerical data.
Time management through planning your work, meeting deadlines and organising your studies.
Experience in working as part of a team – plus developing your organisational skills by working on a group project.
Assessment
End-of-term examinations are the main mode of assessment. Some modules are assessed on practical work, presentations or group projects. Many modules in Finance or Economics are assessed by essays or presentations as well as unseen examinations.
You can choose projects or dissertations for assessment at later stages of the degree programme.
The final degree result is based on the assessment for the second and later years only. It is necessary to pass the Year 1 exams to enter the second year and to pass the Year 2 exams to enter the third/fourth year. These exams are taken in January for Autumn semester modules and May/June for Spring semester modules. Resits for all modules are scheduled in the August resit exam period.
---
You might also be interested in:
---
Contact us
Mathematics
ug.admissions@mps.sussex.ac.uk