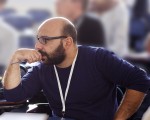 Dr
Nicos Georgiou
Biography
Academic positions
2017- (Current post) Senior Lecturer, University of Sussex
2013-2017, Lecturer, University of Sussex
2011-2013, Assistant Professor/ Lecturer (Postdoctoral Fellow), University of Utah
2006-2011, Teaching and Research Assistant, University of Wisconsin-Madison
Education
Ph.D. in Mathematics, University of Wisconsin-Madison, May 2011
MA in Mathematics, University of Wisconsin-Madison, May 2008
BSc in Mathematics, National University of Athens, June 2006
Role
Current role
Administrative member/Organiser/Facilitator of `Starting to teach at MPS' initiative, June 2015- currently.
Faculty contact for the expository SUMS lectures (Please contact me if you want to give an expository math talk)
Past roles
Member of the Mathematics Department Executive group, September 2016 - September 2017.
Member of the MPS Teaching and Learning committee, September 2015 - July 2016.
Deputy Chair of the Teaching and Learning committee, June 2014 - September 2017.
Member of the Teaching and Learning committee, September 2013 - September 2017.
Creator/Organiser/Facilitator of the ``Mathematics Intersession week", January 2016, January 2017
Community and Business
Expository articles and public engagement
I strongly believe in communicating mathematics outside of mathematics or sciences.
Together with Prof. Enrico Scalas, we wrote two expository articles for The Conversation, that were later picked up for publication in other places, like the Newsweek:
We discussed some implications of game theory to epidemic modelling, together with Prof. Istvan Z. Kiss
Game theory can help prevent disease outbreaks (with I. Z. Kiss), 12 September, 2018.
My most recent expository article is concrned with the "Prisoner's dilemma". It is a very famous matrix game in which it seems that the two players are acting completely against their best interest. It fit perfectly with some of the strategies employed by the PM on convincing her MPS to vote in favour of her deal! Read the full explanation
Will Theresa May's Brexit deal survive? Game theory has an answer. , 26 November, 2018.
BBC Radio 4 Puzzle of the day
If you like puzzles, I have contributed a few to the Today show on BBC Radio 4. You can find the links below: