MPS Staff vs Students Charity Football Match Smashes Expectations
By: Tiana Halsey
Last updated: Wednesday, 2 August 2023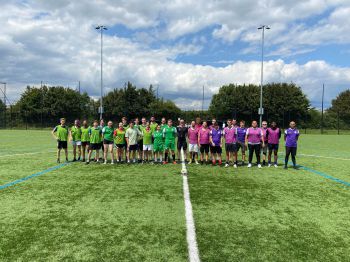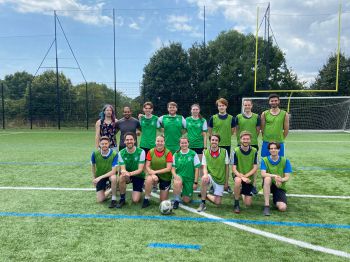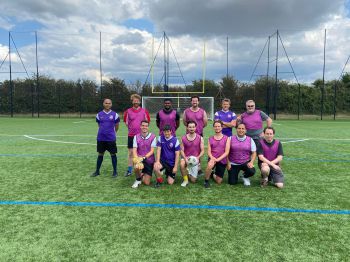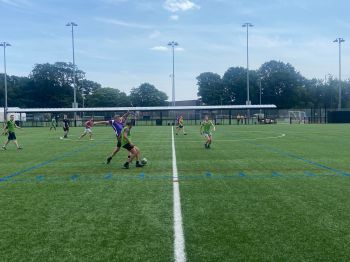 After the huge success last year, the School of MPS hosted their second charity football match at Falmer Sports Complex. The match was in aid of Macmillan Cancer Support.
The event was a massive success, raising an incredible £1,000! Staff and students were brought together to enjoy some friendly competition, along with lots of food and fun, and ultimately the staff team came out victorious with a score of 3-1.
Research Fellow, Dr Sean Ogilvie, said "It is great to see that, in only its second year, the MPS Charity football match has had such engagement from across the School, whether regular social players or newcomers. Everyone had a brilliant afternoon doing something we would've loved to do regardless but we've also raised over £1000 for a great cause! I'm also very happy that our staff team showed that we've still got it and look forward to a friendly rivalry with the PhD student team for years to come"
Doctoral tutor, Christopher Brown, said "This year's MPS charity football was a tremendous success, and organising it provided a great distraction from writing my thesis! I am so happy to have been involved in putting together such a successful event for both the wellbeing of the MPS community, and to raise so much money for an amazing cause – it will be hard to top next year! Congratulations to the staff team who were better on the day – but I'm sure the students will make up for it next time…" We'll just have to wait and see if the students are able to win next time!
Doctoral tuor, Daniel Nightingale, further said "On behalf of the organisers, I would like to thank everyone for their very generous donations that far surpassed our expectations. Great fun was had by all and raising over £1000 for a great cause is amazing."
The school of MPS organise events like this regularly, as well as host weekly football sessions at the Falmer Sports Complex.