Dr Nicos Georgiou wins Better World Award at the Education Awards
By: Justine Charles
Last updated: Thursday, 11 May 2023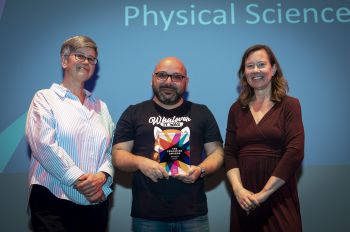 Reader in Probability Theory Dr Nicos Georgiou won a Better World award at the 5th edition of the University of Sussex Education Awards.

This award goes to staff who are having a positive impact in the community. Nicos was recognised for excellent outreach work, particularly his collaboration with local schools, where he together with the Maths outreach team designed an array of activities, presentations and events for students of all ages.
The nomination highlighted: "He is very enthusiastic about Mathematics, organises the events with a great level of detail, with an audience ranging from school children to academics of other disciplines. Nicos' work has great impact in the community (local schools) and also trains our students to do it themselves by inspiring school children. He is dedicated, inspiring, positive and a great role model for students!"
Nicos was also nominated for the Teaching to Disrupt award which recognises teaching staff who dare to be different in their approach to teaching.