Conference on 'Mission Oriented Finance for Innovation: Rethinking risks and rewards'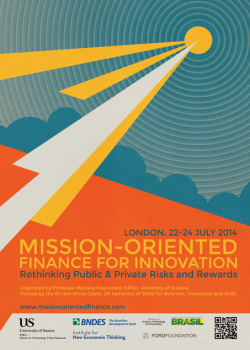 Professor Mariana Mazzucato, Reginald M Phillips Professor in the Economics of Innovation, SPRU, is organizing a conference on 'Mission Oriented Finance for Innovation: Rethinking risks and rewards' for policy makers, industry and academics.
The conference aims to foster new positive thinking about the relative roles of the public and private sectors – and their relationship – in driving cutting-edge innovation through long-term investments in firms, technologies and sectors.
For too long this debate has been blinded by the worry about the State being too active – 'picking winners'. Yet there is increased evidence that regions and countries that have succeeded in achieving 'smart' innovation-led growth have benefited from long-term, visionary, 'mission-oriented' policies – from 'putting a man on the moon' to tackling societal challenges such as climate change and the wellbeing of an ageing population.
To fulfil this mission-oriented function, state agencies – from the US Defense Advanced Research Projects Agency (DARPA) to the Finnish Innovation Fund (SITRA) – have 'picked' broadly defined directions, and have been willing and able to engage with the extreme uncertainty of radical innovation development.
How do they do it? What are the challenges ahead? Should government step back, or step up? And how can we socialize both risks and rewards so that economic growth is not only 'smart' but also 'inclusive'?
The conference on 'Mission Oriented Finance for Innovation: Rethinking risks and rewards' will be hosted by the Rt Hon Vince Cable MP (UK Secretary of State for Business, Innovation and Skills ) in the House of Commons on 22 July, and continuing in other London venues (RSA and City Hall) on 23 and 24 July.
The event is generously funded by the Brazilian Development Bank (BNDES). It is also supported by a grant from the Institute for New Economic Thinking (INET) for a research project on Financing Innovation: An Application of a Keynes-Schumpeter-Minsky Synthesis, which is led by Professor Mazzucato and Professor L. Randall Wray (University of Missouri-Kansas City and Levy Institute of Economics).
Confirmed speakers include Andy Haldane (Executive Director of Financial Stability, Bank of England), Lord Adair Turner (Former Head of Financial Services Authority, UK), and top executives from public and private organizations such as ARM Holdings, ARPA-E, BNDES, China Development Bank, Google, the European Investment Bank, Jaguar Land Rover, and many others.
The third day, in City Hall (hosted by London's Deputy Mayor for Business and Entrepreneurship, Kit Malthouse) will have a more academic focus, with presentations of working papers prepared by members of the INET Financing Innovation project and other leading scholars.
The full programme can be found at the conference website.
---