BBC's book of brainteasers includes puzzles from Sussex mathematician
By: Stephanie Allen
Last updated: Friday, 7 September 2018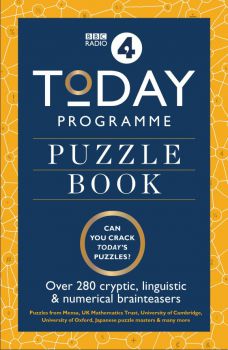 A senior lecturer from the University of Sussex has contributed to a book of brainteasers from BBC Radio 4's Today Programme, which published yesterday (6 September).
The Today Programme Puzzle Book contains over 280 cryptic, linguistic and numerical brainteasers created by top mathematicians and logicians from around the country, including Dr Nicos Georgiou, Senior Lecturer in Mathematics at Sussex.
Dr Georgiou said: "It was great to be able to contribute to the Today programme's series of puzzles and I'm pleased some of my challenges have been included in the collection.
"I think the general public has an uncanny ability to tackle puzzles based on mathematical theorems, because all one really needs is common sense and sound logical reasoning. I hope people will enjoy the challenge (and the gratification) of answering these questions, without being tempted to turn to the answer page too soon!"
The book, published by Octopus, contains a mixture of puzzles designed to test readers' maths, logic, language and reasoning skills. While many of the puzzles have been aired on the radio already, over 50 are brand new questions.
From questions on flags and nations, to maths and language, the Today Programme Puzzle Book has chapters covering common-sense conundrums to Christmas crackers.
Dr Nicos Georgiou has contributed two puzzles to the book, alongside mathematicians from other UK universities including Cambridge and Oxford, plus members of Mensa and the UK Mathematics Trust.
Yesterday, BBC Radio 4's Today Programme aired Nicos's fourth conundrum on air. The puzzle is not one of those included within the new book. Listen again and give it a go.
Be careful… there is more than one solution!
The Today Programme Puzzle Book published in paperback yesterday for £12.99.