Financial trading competition boosts employability by giving Sussex students hands-on experience of capital markets
Posted on behalf of: School of Business, Management and Economics
Last updated: Wednesday, 6 June 2018
Over 80 students from across the University of Sussex recently took part in a week-long financial trading competition organised by the School of Business, Management and Economics, in collaboration with the Sussex Trading Society and Bloomberg Financial Markets Laboratory, and sponsored by the brokerage firm One Financial.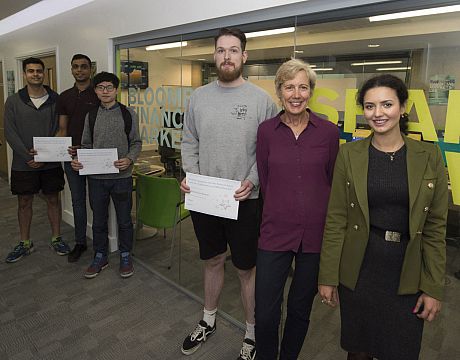 This competition was the latest initiative by the School to boost student employability by promoting hands-on learning of capital markets through the use of One Financial's trading platform. The competition was also an opportunity to further raise University-wide awareness of the opportunities that exist in the financial sector.
At the end of the week, the students were ranked according to the percentage of their original stake they had earned. A presentation ceremony followed, at which the Head of the Department of Business and Management, Prof Sue Newell, presented the top three participants with their prizes, as follows:
first prize: William Jobson Pargeter (Mathematics BSc, third year) won a paid internship at One Financial
second prize: Paul (Lianhe) Chen (Business and Management Studies BSc, second year) won £100
third prize: Ali Walji (International Business and Finance BSc, second year) won £50.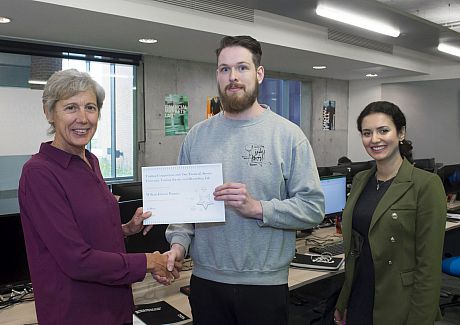 The top 10 participants, and the percentages of their original stakes that they earned, were as follows:
William Jobson Pargeter (183.69%)
Paul (Lianhe) Chen (150.74%)
Ali Walji (145.50%)
Mandeep Singh Nota (136.05%)
Shamari Harrison (132.01%)
Scott Thackray (111.29%)
Eugene Zakharenko (102.28%)
Dylan Peter-Callery (101.61%)
Chi Hung Lin (101.08%)
Tomas Gavelis (93.44%)
Madina Tash, Teaching Fellow in Finance and Director of the Bloomberg Financial Markets Laboratory at Sussex, oversaw the competition: "It's wonderful to see such a high calibre of students from across the University coming together for this competition. It demonstrates that Sussex students are capable of excelling in whichever career they choose. We are extremely grateful to One Financial for their support and look forward to strengthening our cooperation in the future."
Seth Marks, President of the Sussex Trading Society and co-organiser of the competition, added: "This competition has given all the students involved experience of trading in the financial markets and boosts our CVs for graduate job applications. In lectures, we study the theory behind the financial markets and this experience, together with the Bloomberg Financial Markets Laboratory in the School, provides the opportunity to build on that knowledge and to practise in a simulated environment."