Soapbox Science returns to Brighton seafront in June
By: Jessica Gowers
Last updated: Wednesday, 7 February 2018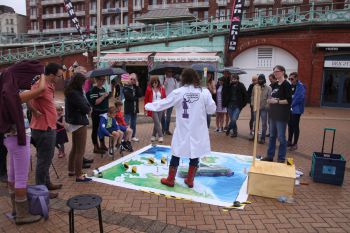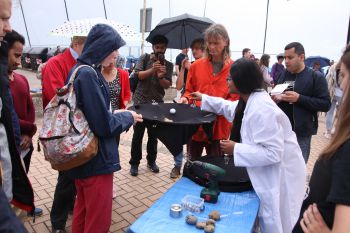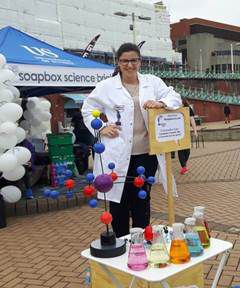 Imagine yourself stood upon Brighton seafront, the sun shining, talking about science with passers-by and inspiring them to find out more about your research … sound inviting? Well, this summer you have your chance as Soapbox Science returns to Brighton.
The call for speakers is now open – and the deadline to submit application forms is 23 February
What is Soapbox Science?
Soapbox Science host events across the UK and the world that celebrate women in STEMM (Science, Technology, Engineering, Maths, Medicine), breaking down barriers and challenging stereotypes about who a STEMM researcher is.
Soapbox Science events transform public areas into an arena for public learning and scientific debate; they follow the format of London Hyde Park's Speaker's Corner, which is historically an arena for public debate.
Soapbox Science provides an opportunity for everyone to enjoy, learn from, heckle, question, probe, interact with and be inspired by some of our leading scientists. No middle person, no powerpoint slide, no amphitheater – just remarkable women in science who are there to amaze you with their latest discoveries, and to answer the science questions you have been burning to ask.
What is Soapbox Science Brighton?
The Brighton event is organised by a group of staff at the University of Sussex. Dr Beth Nicholls, event organiser, said: "Soapbox Science is a brilliant initiative for raising the profile of women in science. What started out in 2011 as a single event in London has now gone global, with 30 events planned for 2018 in locations across the world. We can't wait to host Brighton's second event in 2018."
2017 speaker Dr Sam Furfari, from the School of Life Sciences, has spoken about her experience in a recent blog and the 2017 event video is available online.
Dr Katy Petherick, event organiser, said: "We were so pleased by the level of interest for the Brighton event in 2017 by people from across the south-east. The event is open to researchers from PhD to professor, as well as non-academics such as entrepreneurs, designers and inventors; we look forward to seeing the diversity of the applicants for 2018."
Soapbox Science Brighton will take place on Saturday 2 June 2018. Speaker applications are now open and are welcomed from anyone who identities as a woman in STEMM. Applications are particularly encouraged from:
people working in Chemistry, Maths, Engineering, Technology;
people who identify as a minority in STEMM;
professors in any STEMM subject.
The application deadline is 23 February 2017.