Sussex set to celebrate LGBTQ+STEM Day with online event
By: Jessica Gowers
Last updated: Monday, 2 November 2020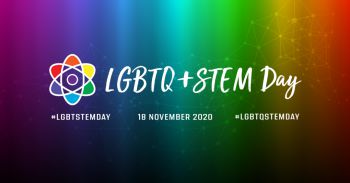 The University of Sussex is celebrating LGBTQ+STEM Day with a special online event on Wednesday 18 November.
LGBTQ+STEM Day aims to improve awareness and support for LGBTQ+ (Lesbian, Gay, Bisexual, Trans, Queer, plus) individuals in STEM (Science, Technology, Engineering and Mathematics) and is celebrated internationally.
Dori Grijseels, a PhD researcher at Sussex, has organised the online event to mark the occasion, which will involve a talk from an external guest speaker, followed by a panel discussion.
They said: "As a queer scientist myself, it is important to me that we celebrate the diverse range LGBTQ+ scientists that are doing amazing work, as well as address ongoing problems that still need to be addressed to improve inclusivity. This is why I am organising this event for LGBTQ+STEMDay. I'm excited and grateful for our speakers from both within and outside of Sussex that have agreed to be involved and share their perspectives with us."
Dr Vivek Nityananda is an animal behaviourist at Newcastle University and will deliver the guest talk, which will cover his research and own experiences as an LGBTQ+ person in STEM.
Following the talk there will be a panel discussion covering the advantages (and disadvantages) of being out in the workplace, what can be done to make academia a more inclusive environment, the importance of role models and more.
The panellists include Dr Cerys Bradley, a science communicator; Dr Craig Poku, a research fellow at Leeds University who studies cloud microphysics; Dr Cassandra Churchwell, a physicist at the University of Sussex; the guest speaker, Dr Vivek Nityananda; and organiser Dori Grijseels.
The event is supported by the University's EDI Unit. Anthony McCoubrey, Equality, Diversity and Inclusion Coordinator, said: "'It is great to see that LGBTQ+STEMDay is being marked at Sussex with this wonderful event. This is an important day in the LGBTQ+ calendar and the EDI Unit fully supports the marking of the day to celebrate and hear about the experiences of LGBTQ+ scientists at Sussex and further afield."
LGBTQ+STEM Day was first celebrated in 2018 and was set up by Pride in STEM, a charitable trust run by an independent group of LGBTQ+ scientists and engineers from around the world.
This year the event will be celebrated on 18 November. The date is symbolic of the 60th anniversary of a fight in the US Supreme Court against workplace discrimination by American astronomer and gay activist Frank Kameny.
To register for the University of Sussex LGBTQ+STEM Day event, which takes place from 2pm to 3.30pm on 18 November, please visit EventBrite.