University of Sussex and Southwest University explored options for joint programmes at a joint workshop
By: Sephora Imomoh
Last updated: Friday, 16 October 2020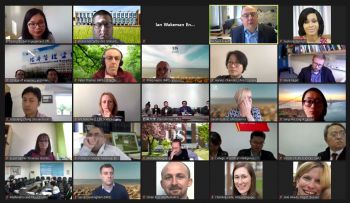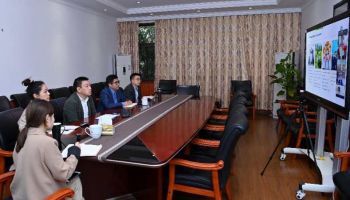 Sussex global engagement and the Department of international co-operation at Southwest University (SWU) hosted academic school leaders from the University of Sussex and Southwest University to a joint virtual workshop on 14 October 2020 to explore joint programmes and transnational education opportunities across four schools at Sussex and five schools at Southwest University.
Close to 40 delegates including Sussex' school leaders from the Schools of Mathematics and Physical Sciences, Engineering and Informatics, Life Sciences and University of Sussex Business Schools as well as their counterparts from Southwest University's Colleges of Life Sciences, Mathematics and Statistics, Artificial Intelligence, Physical Sciences and Technology as well as Economics and Management engaged in positive discussions about transnational education opportunities across both institutions.
Sussex Deputy Pro Vice Chancellor International, Professor Richard Follett, opened the event up and he shared Sussex outstanding achievements in research and education and our track record of interdisciplinarity. While Head of Global Partnerships Ms Li Camm provided an update on the partnership journey so far between both institutions.
Director of International co-operation, Southwest University Mr. Fajun Zhang shared SWU track record of international partnerships and its vision for further developing transnational education partnerships. The workshop then broke up into smaller rooms where the Heads of Schools, Deans and other school leaders discussed courses and areas that can be developed further into joint programmes. Follow up meetings will be organised by all the schools to move forward the discussions.
University of Sussex and Southwest University (SWU) are key partners following an MoU signed in 2018 and have been collaborating in the areas of staff exchange and student recruitment. SWU students attend the Sussex international summer school and we have an articulation agreement with the school of Life Sciences, and the School of Mathematics and Physical Sciences. Staff from the University of Sussex are also in discussions with SWU to participate in the SWU global immersion programme next summer as international faculty.
Discussions have been ongoing between the two institutions on further areas of collaboration such as dual degrees and transnational education (TNE). This will broaden Sussex and SWU international offers in line with the internationalisation strategy of both institutions. Given the variations in courses offered at both institutions it is important to bring together key academic faculty from Sussex and SWU to discuss the subject areas with potential to be a good fit for academic collaboration.
Participating Schools and Colleges
University of Sussex (Schools)

Southwest University (Colleges)

Engineering and Informatics

Artificial intelligence;

Mathematics and Physical Sciences

Mathematics

Physical Sciences and Technology

Life Sciences


Life Sciences

University of Sussex Business School

Economics and Management
About Southwest University
Southwest University (SWU) is a major research-intensive university currently ranked top 2% in China. It is a large research-intensive university based in Chongqing China with over 50,000 students, including about 40,000 undergraduate students, over 11,000 postgraduate students and over 2,000 international students.
SWU has 35 schools, with 12 disciplines including philosophy, economics, law, pedagogy, literature, history, science, engineering, agriculture, medicine, management and art. The university has a national key laboratory, a national engineering technology research centre, a national and local joint engineering laboratory, and several provincial and municipal laboratories or research. SWU's Research on Silkworm genome is ranked #1 in the world.
About University of Sussex
The University of Sussex is a leading research-intensive university in the South of England. Sussex was the first of the new wave of UK universities founded in the 1960s, receiving its Royal Charter in 1961. Over 75% of research activity at Sussex is categorised as world leading (4*) or internationally excellent (3*) in terms of originality, significance and rigour. Our research tackles major world issues with leading areas of expertise such as climate change and development studies.
Sussex has developed a reputation for innovation and inspiration and attracts leading thinkers and researchers. From its foundation, Sussex has had an international perspective to its academic activities and its outlook. We attract staff and students from more than 100 countries to our campus, and nearly a third of staff come from outside the UK.
Our 12 schools of studies, Doctoral School and research groups form the academic heart of Sussex. We have an interdisciplinary approach to study and drive forward development in research and teaching. (www.sussex.ac.uk)