Obituary: John Scott (1928 - 2023)
By: Justine Charles
Last updated: Wednesday, 2 August 2023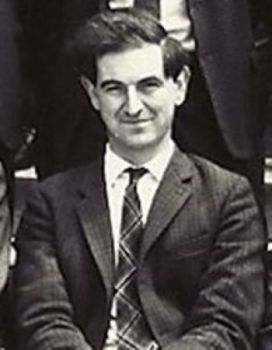 John Scott, a distinguished academic and statistician, who served as Professor of Statistics and Pro-Vice-Chancellor at Sussex, has passed away in Melbourne aged 94.
Born in Sunderland, County Durham, John spent his formative years in the South of the UK. He completed his secondary education at Bristol Grammar School, covering the war years from 1939.
His academic journey began with two scholarships that granted him entry to Trinity College, Cambridge, in 1946. There, he specialised in numerical analysis and statistics, graduating in 1949.
An expert practical statistician, John held posts as Research Assistant at Sheffield University (1950–53) and Assistant Lecturer at Aberdeen University (1953–55). He subsequently spent 10 years as Lecturer in Biometry at Oxford University, during which time he was employed by the British Government and the Food and Agriculture Organisation of the United Nations to make two visits to Nigeria as technical expert.
In 1965, John joined Sussex (founded in 1961) as Senior Lecturer in Statistics, where he swiftly rose to the positions of Reader in 1966 and Professor in 1967. During his tenure at Sussex, he also served as Chair of the Mathematics Subject Group (1968–71) and subsequently as Pro-Vice-Chancellor for Science. In 1977, La Trobe University in Melbourne appointed him as its second Vice-Chancellor, due in part, quite possibly, to its similar beginnings to those of Sussex.
Following years of expansion at La Trobe, a lack of funds, little growth and static enrolments, John realised the lack of educational opportunities at north Melbourne, especially in professional disciplines. Taking over a successful institute of health sciences, with training schools in occupational therapy, physiotherapy and speech therapy, was key to the university breaking out from the liberal arts and sciences that it had been restricted to.
Further diversification ensued after John's 13-year tenure, which thus started La Trobe on its trajectory of subsequent success. During John's guidance, La Trobe increased its share of national research funding and its student numbers grew substantially.
In 1990, on retiring from his Vice-Chancellorship, John was made an Officer of the Order of Australia (AO). His legacy lives on at La Trobe University, with the John Scott Meeting House on the Melbourne campus named in his honour.
Whilst still in Britain, John served as a Lay Reader in the Church of England, and on leaving La Trobe, trained for the ministry of the Anglican Church in Australia. Upon ordination he served for years as a locum minister and associate priest, famed for brilliant and engaging sermons.
Even in retirement, John remained actively involved in the statistical world. At the age of 73, he designed a highly successful sampling scheme for evaluating the holdings of the Public Records Office of the State of Victoria (6 million items). This achievement led to further recognition and the opportunity to design a similar scheme for the State Film Library.
John Scott leaves behind a rich legacy and a loving family. He married Thea Gordon in Aberdeen and they had four children together. Both Thea and their daughter Catriona predeceased John, who is survived by their other children: Douglas, Tessa, and Rachel. Additionally, he is fondly remembered by eight grandchildren and two great-grandchildren.
Melbourne's newspaper The Age, honoured his life and accomplishments with an obituary in its 10 May 2023 edition. La Trobe also released an appreciation, recognising the immense impact John had on the institution and the world of statistics.