EngInf and MPS enjoy LGBTQ+ STEM Day Celebrations
By: April Yeatman
Last updated: Monday, 28 November 2022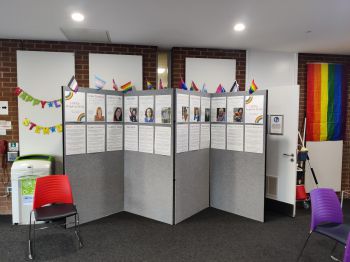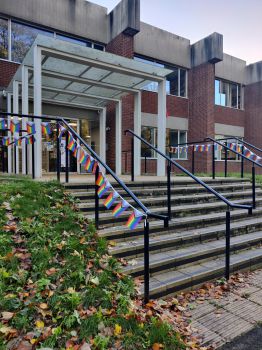 Friday 18th November was LGBTQ+ STEM Day. This day was created to celebrate the achievements of LGBTQ+ people in STEM, and to recognise the barriers that the community still faces. November 18th was chosen symbolically as it is the anniversary of Astronomer Frank Kameny's historic supreme court fight against workplace discrimination.
This is a barrier that LGBTQ+ people still face today. In the 2018 LGBT in Britain - Work Report a staggering 35% of LGBT+ people reported having to hide or disguise that they are LGBT at work because they were afraid of discrimination.
Colleagues in EngInf and MPS celebrated with a display of notable LGBTQ+ people in STEM that was put up in the Chichester I Lecture Theatre Foyer and in Pevensey 2 Foyer. The notable people celebrated were:
Lynn Conway - Computer Scientist, Electrical Engineer, and Trans Rights Activist
Audrey Tang – Software Developer and Digital Minister of Taiwan
Sally Ride – Astronaut and Physicist
Arti Agrawal – Physicist and Electrical Engineer
Robert D Macpherson – Mathematician and Inventor
La-Chun Lindsay – Aerospace Engineer and LGBTQ+ in STEM advocate
Angela Clayton – Physicist and Trans Rights Campaigner
Alan Turing – Mathematician and Computer Scientist
Frank Kameny – Astronomer and Gay Rights Activist
Nergis Mavalvala – Astrophysicist and Dean of MIT School of Science
A panel discussion was also held on LGBTQ+ experiences in STEM in the Bridge Café on 18th November. Panellists discussed ways to improve representation, LGBTQ+ inclusivity at Sussex, why they went into STEM and shared advice for LGBTQ+ people starting their STEM journey.