Nobel Laureate says 'I LOVE SUSSEX!!' at University's anniversary event in Parliament
By: Neil Vowles
Last updated: Tuesday, 30 November 2021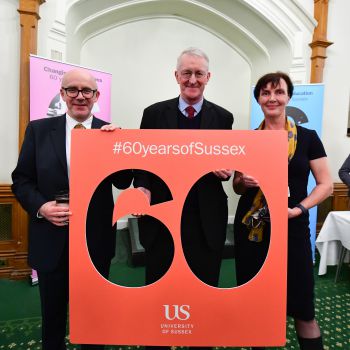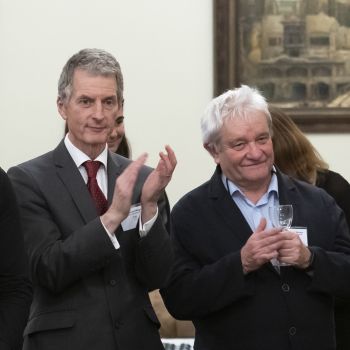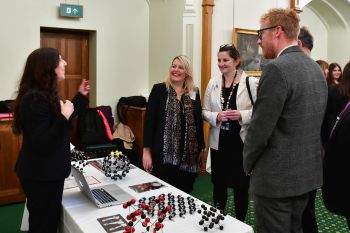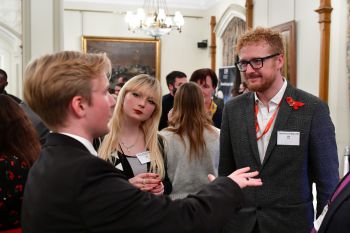 MPs, Peers, Sussex alumni, staff and students came together at the House of Commons to celebrate 60 years of research at the Sussex Parliamentary Reception as part of the University's year of anniversary celebrations.
The large number of MPs, local politicians and peers who attended the event on Tuesday evening (23 November 2021) spoke with Sussex students and staff and engaged with Sussex academics who showcased their research at the event including work on memory, dementia and robotics.
Professor Hazel Cox and Dr John Turner (Department of Chemistry, School of Life Sciences), shared how they are building on the work of Sussex Nobel Laureate Sir Harry Kroto in seeking applications for nanomaterials including creating more efficient photovoltaics which can deliver "green, clean and smart" energy.
Vice-Chancellor David Maguire welcomed guests and highlighted the University's recent success in achieving the joint 12th highest number of highly cited researchers of any institution in the UK before thanking Brighton Kemptown MP Lloyd Russell-Moyle for hosting the event and introducing the speakers for the event.
Mr Russell-Moyle, who has close ties to the University as a former student and staff member, declared 'I am a friend of Sussex' and shared how much he appreciated Sussex's interdisciplinary approach, explaining why this is important not just for students, but for MPs as well with its potential to solve world issues.
Former member of staff, honorary Sussex alumnus and Nobel Laureate Sir Paul Nurse, began his speech with an impassioned shout of "I LOVE SUSSEX!"
He regaled the audience with tales of the University's reputation as a plate glass University where students sat in the Vice-Chancellor's office and the VC didn't seem to mind. Sir Paul went on to explain how he joined the School of Life Sciences in the 1980s and had the privilege of working under the late John Maynard Smith. Sir Paul ended his speech by saying: "With freedom, passion, the right cohort and minimal bureaucracy – all of that makes academic achievement possible – and ultimately very satisfying"
Prof Peter Kruger (Head of the Quantum Systems and Devices group) explained how his interest in quantum was amplified by former Sussex academic Sir Anthony Leggett, whose research includes a focus on the foundations of quantum physics and superfluidity. Peter explained that Sir Anthony was so generous with his time when he first met him as a young student 20 years ago that it encouraged him on his path to become a quantum physicist himself.
Now years later, Prof Kruger is researching the potential of quantum technology through different applications with his postgrad students at Sussex, to tackle the challenges of climate change, the efficiency of electric vehicle batteries and develop non-invasive ways of studying brains in dementia research.
Finally, Provost Rachel Mills, delivered the closing speech.
Like Sir Paul, she also declared that although she is a relatively new appointment, she "already LOVES Sussex" and wished the University a happy birthday. Prof Mills looked back to the origins of research at the university, the broad range of its many achievements so far and explained how the experience of Sussex lasts a lifetime.
Prof Mills also shared her sense of pride in Sussex and how research at the University continues to make a real world difference, citing an example of the University's involvement in restoring the kelp forest off the Sussex Coast that is now sequestering carbon into the seabed and playing an important part in restoring the marine ecosystem.
What is certain is that after 60 years, Sussex's foundations remain strong, and our interdisciplinary approach, passion and inspiration is proving to be a recipe that is much needed in today's world.