The School of Law, Politics and Sociology is divided into the following departments - follow the links below to visit a department website:
Welcome from the Head of School
The School of Law, Politics and Sociology brings together the Sussex Law School, and the Departments of Politics, and Sociology, each of which is a vibrant academic unit committed to excellence in teaching and recognised nationally for research.
A significant relationship exists between the three disciplines and the School engages with key issues of contemporary concern.
Teaching and research:
Our courses are intellectually rigorous and the School is home to researchers working across a variety of cutting-edge themes. In the 2008 Research Assessment Exercise (RAE) Law and Sociology were rated in the top 16 in the country for research and Politics was rated as joint second. The School of Law, Politics and Sociology offers a rich and rewarding learning environment, providing a wealth of knowledge and experience with an ongoing commitment to world-leading teaching and research.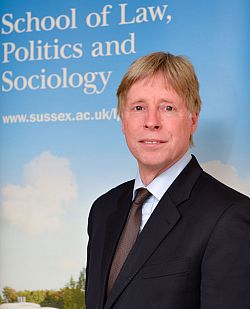 Professor Stephen Shute
Head of School of Law, Politics and Sociology
School contact
Friston Building 121
University of Sussex, Falmer
Brighton BN1 9SP, UK
Opening Hours:
Monday-Friday 9:00am-5:00pm
T:+44(0)1273 678655
F:+44(0)1273 873162
E: lps@sussex.ac.uk
Where our students come from
The School of Law, Politics and Sociology has a diverse mix of students that come from over 85 countries around the world, from Albania to Zimbabwe: