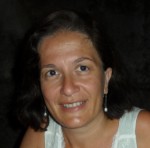 Dr
Nadia Terrazzini
Biography
Nadia Terrazzini earned a magna cum laude degree in Biological Sciences at the University of Milan in 1996. She completed postdoctoral training in the field of cancer immunology at the National Institute for the Study and Cure of Cancer in Milan, where she contributed to studies developing gene therapy for cancer. In 1998 she took a postdoc position at the University College of London, where she worked in collaboration with Dr T. Lund on the enhancement of DNA vaccine potency by DNA electropermeabilisation of skeletal muscle, with Professor B. Chain on the analysis of the expression of the intracellular aspartic protease Cathepsin E in human dendritic cells and with Professor A. Mitchinson on the polymorphism analysis in regulatory gene sequences. In 2000 she became Faculty Member at the University of East London where she has been leading undergraduate and postgraduate modules of immunology and she still holds a part time position as senior lecturer. Since 2011 she also leads undergraduate courses of immunology at the University of Sussex in Brighton. In 2006 she worked at BSMS Medical School on a short research sabbatical with Dr Martin Llewelyn on the study of T cell activation by superantigens. She returned to BSMS in 2010, where she currently works as postdoc fellow in the group of Prof Florian Kern. Her current research focuses on the role of CMV infection and regulatory T cells in the process of immune system ageing.
Role
Lecturer in Immunology
Module convenor, Combating Disease (level 2)
Module convenor, Immunology in Health and Disease (Level 3)
Community and Business
* Honorary titles
Honorary Lecturer at Institute of Ophtalmology, UCL (http://www.ucl.ac.uk/ioo/research/ono.htm)

* Professional Society membership:
- Bristish Society of Immunology (BSI)
- Federation of Clinical Immunology Society (FOCIS)
Course Organiser: Combating Disease and Immunology in Health and Disease.
Also leader of a SSC immunology tutorial group at BSMS and teaching team member on Research Methods in Biochemistry