Sustainable Sussex Month - Week 3 and 4
By: Martha Knott
Last updated: Monday, 20 March 2023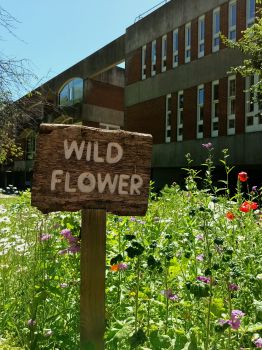 Do you want to actively create a more sustainable future – either on campus or in your local community?
Join us for the last two weeks of Sustainable Sussex Month (20-31 March) for a series of action and future focused events.
ACCA, 6-8pm
Get free tickets for this exciting feature documentary film that investigates the damaging effects that plastic pollution is having on our health, lifestyle and wildlife, followed by a Q&A.
The film follows the work of eminent scientists, front line campaigners, and innovative designers, including Sussex academic Claire Potter, working on solutions to the greatest pollution crisis of our time. This is an eye-opening film that inspires action.
A panel of speakers, including Claire Potter, will then join us for a Q&A about the film, plastic pollution, and solutions to the plastic crisis.
Get your free ticket now from the ACCA website.
23 March - Walk on the wild side: trip to the Knepp Rewilding project + safari tour
08.30am-5.00pm (including coach travel from and back to the Sussex campus)
Join SSRP for a day out in the wild and dynamic Sussex countryside at Knepp Estate. Hear from Head of Natural Capital Molly Bidell; SSRP Research Fellow and rewilding expert Chris Sandom; and Knepp Estate's fantastic guides during a walking safari tour around the site!
Encounter herds of wild Exmoor ponies, red and fallow deer, free-roaming longhorn cattle and Tamworth pigs as they roam 3,500 acres of Sussex, driving the forces of habitat regeneration just 16 miles from Gatwick airport.
24 and 28 March - Sustainability Champions and Volunteering Opportunities
In-person workshop, Student Centre: 24 March, 12-2pm
Online: 28 March, 10:30am-12pm
Sign up to join the University Sustainability Manager either in-person or online to learn more about our new community-based volunteering opportunities, with a range of charities who support social, economic and environmental sustainability. These include the Sussex Wildlife Trust and Mind.
We will also be discussing ideas and thoughts on how we can create a sector leading sustainability champions scheme to support you in working with fellow staff and/or students to bring about small but significant changes in the way we operate our campus in key areas such as waste, energy, water, travel and biodiversity.
Woodland 2/3, 9.45am–4.30pm
Discover the green graduate job market, meet inspirational speakers and tackle a live sustainability challenge faced by an employer – all on one day. There are 120 places at the event (priority will be given to students from underrepresented groups). Use this application form to find out more and apply for a place.
27 March - Marie Jahoda Annual Lecture – Sir James Bevan (CEO – Environment Agency)
Bramber House, 4.15pm-7.30pm
The Science Policy Research Unit (SPRU) at the University of Sussex Business School are delighted to host the 2022 Marie Jahoda Annual Lecture. Launched in 1997, this annual event celebrates the outstanding contributions that Professor Marie Jahoda CBE made to SPRU. This year's lecture will be delivered by Sir James Bevan, CEO of the Environment Agency, followed by a panel discussion and Q&A. Please register to attend.
Other ways to get involved in Sustainable Sussex Month:
Craving a coffee to get you through to the Spring Break? You could win a free coffee each day in March, when you complete 20 minutes of active and sustainable travel to campus! Plus, if you do this on more than 15 days in March, you could win £50! Download @BetterPoints, join EcoGo and log your activity to be in with a chance of winning.
Enter the International Poetry Slam Festival on Re-imagining Our World (6 March-22 April)
To celebrate Earth Day (22 April), the International Universities Climate Alliance, alongside others, is inviting students, staff, and community from across the globe and many language backgrounds to share their vision for a fairer, more sustainable world in a festival that aims to be inclusive, friendly and fun. Entries open on 6 March. Read more and register your interest.