Belong at Sussex Launches in Student Experience
By: Eileen Laffan
Last updated: Tuesday, 22 November 2022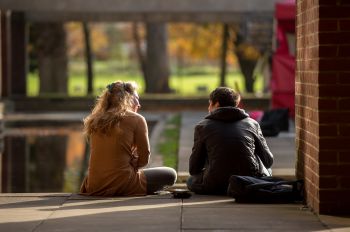 Belong at Sussex is a new programme in Student Experience that aims to foster a sense of belonging amongst our student community through a portfolio of activities that will be delivered all year round. The programme aims to be accessible and inclusive to all our students, through whole cohort activities as well as targeted events and interventions to engage particular student groups that have been identified by the Office for Students and the University's Access and Participation Plan. This will be used as the starting point to build the programme.
The Student Engagement and Enhancement team have been working with student connectors to develop the programme and in August a 3-day Transition Programme was delivered as part of Welcome: Get Ready. Continuing on the success of Get Ready activities, during Welcome: Get Settled students were invited to a series of targeted events including specific activities for mature students, student parents and carers, disabled students, students who are from a care experienced background, those from refugee or forced migration backgrounds, and our gypsy, Roma and traveller (GRT) community. On example is the GRT at Sussex Tea and Chat event which showcases the ethos of this work. It was a collaboration between The Student Engagement and Enhancement Team and the Widening Participation Team. Further information on this event can be found in the article 'Establishing a space for University of Sussex GRT community in Welcome Week and beyond.'
Belong at Sussex will amplify marginalised voices and establish space both virtual and in person which is very much the vision of both staff and student connectors working on the programme. The Programme will be designed and delivered in collaboration and may, throughout the year, will include activities such as peer study groups, film screenings or socials. Over time, the programme will be informed by feedback from the students who engage in the activities and will be built upon using a dialogic, participatory, co-creative approach.
To ensure the programme of activities is accessible, a Student Hub webpage and the Belong at Sussex Canvas Module. have been launched so that students can access the resources and support currently on offer. Students can use our Canvas module to find out about our activities, or can opt-in to join a discussion forum that resonates with them. By establishing community spaces our hope is that students feel a sense of belonging at Sussex and confidence in pursuing their academic studies. We would welcome staff signposting students to engage with the Belong at Sussex webpage and Canvas module.
If you have any further questions please contact: see@sussex.ac.uk