Sussex Chemistry retains top ten status
By: Jessica Gowers
Last updated: Thursday, 16 September 2021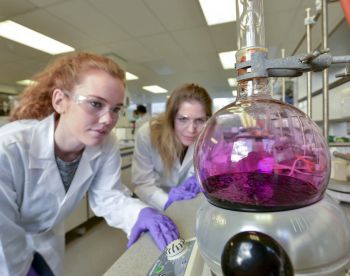 Chemistry at Sussex has retained its position as being among the top ten in the UK in the most recent Guardian University Guide rankings.
The 2022 Guardian University Guide ranks the University of Sussex as 8th in the UK for Chemistry, maintaining its position from last year.
Wendy Brown, Professor of Physical Chemistry and Subject Chair for Chemistry said: "We are delighted that we have retained our position of 8th for Chemistry in the Guardian league tables. This ranking is a testament to the fact that we have an excellent, and supportive, Chemistry community here at Sussex where all of the staff do our best to ensure that students have the best experience possible during their degree programme. In line with this, we are very much looking forward to welcoming our students back to in person teaching in the coming term."
The Guardian University Guide rankings take into consideration student feedback from the National Student Survey, the student to staff ratio, spend per student, average entry tariff and career prospects of recent graduates.
Pip Cox is a third-year student on the MChem Chemistry course. She said: "The best thing about Chemistry at Sussex is the lecturing team, their enthusiasm for their subject area makes for really interesting lectures. The community created in Chemistry is unparalleled, the smaller class sizes allow the lecturers to get to know you. They really care about your personal journey."
The full Guardian University Guide Chemistry rankings can be found online here.
For more information about Chemistry at Sussex, visit the website or follow @ChemistrySussex on Twitter.