SAGE Publishing Scholarship renewed
By: Ciaran Clark
Last updated: Tuesday, 13 April 2021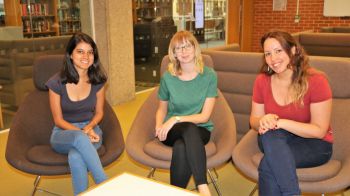 Last year, we celebrated 10 years of working with SAGE Publishing and have just renewed our sponsorship arrangement for 2021.
The University of Sussex is very proud of its longstanding relationship with SAGE and the Library values highly the opportunities that we have had to work together.
Throughout this time, we have run a successful scholarship programme with doctoral researchers. Each year, we recruit three doctoral researchers from across disciplines to be the Research Hive Scholars to engage with their peers and build community. In more usual times, the Research Hive Scholars spend time in the Library's Research Hive to foster this supportive network. This is a dedicated space in the Library for all researchers, for study, discussion and collaborative work.
Research Hive Scholars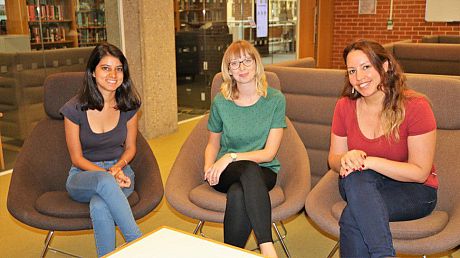 "Apart from giving me a real sense of purpose, my role as a Hive Scholar allowed me to feel like I was actually making a difference in the doctoral community at a time of real hardship, and especially at a time when I (along with other researchers) felt overlooked by the university. In supporting the prolific research community at Sussex, I feel equally supported by them and I hope our work can continue to make a difference." Aanchal Vij
"Becoming more connected with the doctoral community, via social 'meet-ups' or by supporting one another through the open forums with the University, has been a phenomenal source of support. It has certainly been a year of ups and downs, but we learnt a lot about the kinds of support that work for doctoral researchers and we have many positives to take away." Devyn Glass
"In a time where everyone needed some extra support, it felt good to be able to give back to the community and use the connections we have built up as Hive Scholars to try and be a voice advocating for PhD students at Sussex. I'm very proud of the way we have found new ways to keep making a difference in this "new normal". Louise Elali
Research Hive activity
Over last year, the Scholars' activities have been entirely virtual, ranging from an extremely popular seminar from The Thesis Whisperer to weekly Breakfast Serial Writing sessions. Each Scholar has developed their own area of interest; Devyn's focus was on the mental health and well-being of doctoral researchers, Louise around multidisciplinary research approaches, and Aanchal the international doctoral experience at Sussex. Between the three of them, they have sought to offer a holistic support system to researchers at Sussex.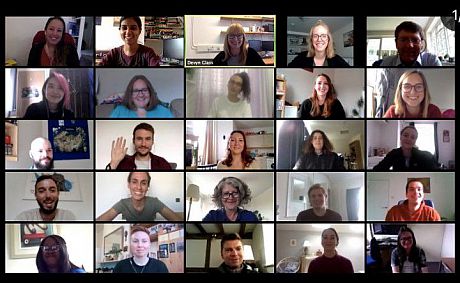 Working closely with SAGE
The Scholars contribute to the SAGE Perspectives blog with three of their posts featuring in SAGE's top 20 most viewed for the last year: debating the merits of conference poster presentations, coping with Covid as a research community and tips for becoming a journal peer reviewer.
The Hive Scholars also keep their own Sussex Research Hive blog which is full of rich content. Their posts cover a wide range of topics to engage the research community, from the value of interdisciplinary interchange to steps to fire up your research profile. The most viewed posts for last year included their Quaran-Time Tea & Talk sessions, publishing your PhD as a book. Not surprisingly, researcher wellbeing has been a recurring theme. During lockdown, the Scholars have found new ways to support fellow researchers including posting out 'care packages', sent out in advance of the virtual Tea & Talk sessions.
Research Hive Seminars
Supported by SAGE Publishing and hosted by the Library, the Sussex Research Hive Seminar series returns for 2021, bringing together the research community, from Sussex and beyond, to explore and discuss issues that are currently affecting researchers.
Digital communities: connecting researchers at a distance - Tuesday 30 March, 2-3.30pm
Own it: The impact of rights retention - Tuesday 20 April, 2-3.30pm
Exploring DORA: responsible metrics, research evaluation and you - Monday 24 May, 2-3.30pm
Thank you, next: the future of research assessment - Wednesday 9 June, 2-3.30pm