Student feedback helps to protect UK woodlands
Posted on behalf of: University of Sussex
Last updated: Thursday, 23 July 2020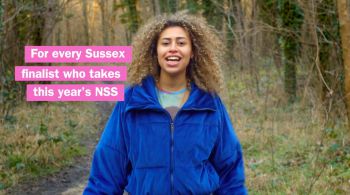 Thanks to the finalists who responded in the 2020 National Student Survey (NSS), the University of Sussex is donating £4,506 to the Woodland Trust.
The NSS is a UK-wide survey of all final-year undergraduate students to give feedback on what it's been like to study on their course. This feedback is vital in shaping the student experience and helping other students make an informed decision about their choice of course and university.
This year the University committed to donate £2 to the Woodland Trust for each Sussex student who took part, with final responses totalling 2,253. The UK charity's work includes woodland and wildlife protection, reforestation projects and research.
Watch student Lola introduce the campaign in this video:

On receiving the donation, Faye Rollinson, the Woodland Trust's Lead Marketing Manager (Individual Donations) commented: "We are incredibly grateful to the University of Sussex for their support in fundraising for the Woodland Trust. Their support will enable us to continue standing up for UK woods and trees, fighting against the impacts of climate change and providing much needed homes for wildlife. Fundraising initiatives like this are very important to us and allow us to continue our vital work in creating, protecting and restoring our much-loved native woodlands for people and wildlife to enjoy."
Kelly Coate, Pro Vice-Chancellor for Education and Students, said: "I would once again like to thank all of the finalists who took part in this year's NSS. As well as making a difference to other students' education and experience at Sussex, your feedback will have a wider positive impact on our environment."
Eligible students who completed the NSS online by 29 February 2020 could also opt in to a prize draw for £750 cash. Engineering student Kieran Tyner was randomly picked as the winner by Ipsos MORI, the polling company that carries out the survey for the OfS.