Local Businesses Explore Mechanochemistry at Sussex Event
By: Jessica Gowers
Last updated: Wednesday, 17 July 2019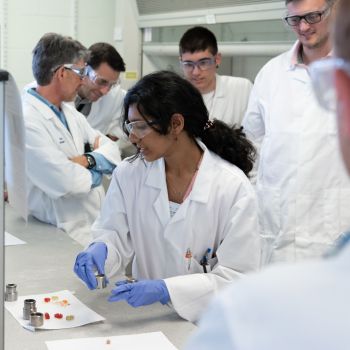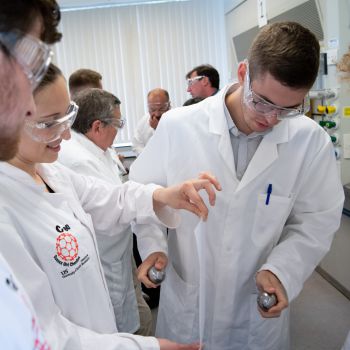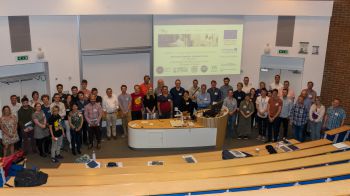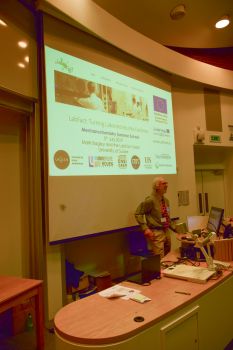 The University of Sussex hosted a summer school to demonstrate mechanochemistry through a series of seminars and hands-on laboratory demonstrations.
The event, which took place on 5 July 2019, saw local Small and Medium Enterprises (SMEs) learn about this branch of 'clean chemistry' as part of the LabFact Project.
LabFact aims to offer SMEs in the France/England channel region expertise in clean and environmentally sustainable technologies for the manufacture of fine chemicals, for use in areas such as drug discovery and new materials.
The summer school was designed to showcase one such technique, mechanochemistry, in which chemical products are synthesised using mechanical action, removing the need for solvents or reagents.
Mark Bagley, Professor of Organic Chemistry who leads the LabFact research in this area, said "This is a revolution for organic chemistry: the reaction of two solids might not need any solvent at all. This technology could completely change chemical manufacturing for the better – no solvents, no round bottom flasks, no heating, no waste. It has great potential."
As part of the event, attendees tried out mechanochemistry in the laboratories and were able to put their questions to international experts, including Prof Stuart James of Queen's University Belfast, Dr Duncan L. Browne of Cardiff University and Prof Frédéric Lamaty and Dr Xavier Bantreil of Université de Montpellier.
Representatives from Pareon Chemicals, Imperial Bioscience, BubbleLife Ltd, Retsch UK, Janssen R&D, Allergy Therapeutics, Asynt, Teledyne ISCO and more attended, representing the broad range of industries that could benefit from mechanochemistry.
LabFact is a project that involves multiple institutes in the UK and France within the FCE region, bringing together world experts in flow and reagentless chemistry. The project is funded via the European Regional Development Fund (ERDF) Interreg V Programme.