Sussex neuroscientist recognised as rising star of research by Leverhulme Awards
By: Jessica Gowers
Last updated: Friday, 20 October 2017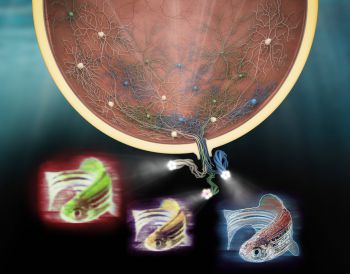 A researcher at the School of Life Sciences has been awarded a highly prestigious Philip Leverhulme Prize.
Dr Thomas Baden was recognised for his research into animal vision and was bestowed £100,000 to continue his work.
Dr Baden said: "I am deeply humbled by this award, which will allow us to perform new, critical experiments investigating the visual world of zebrafish. I wish to express my gratitude also to my many long-term collaborators and all members at my new lab at the University of Sussex."
The Philip Leverhulme Prize is awarded to recognise the achievements of outstanding researchers whose work has already had significant international impact and whose future career is exceptionally promising.
Dr Baden studies how the retinas of different animals that live in different environments vary in terms of structure and function.
Animals use their eyes to highlight visual information in their world, which is critical to survival. Dr Baden's research compares the 'visual worlds' of different animals using various measurements of natural habitats, such as videos.
He tests how animals' retinas are built to process the environment around them, particularly focusing on the zebrafish. This provides a greater understanding of how biological vision and neurone networks work and ultimately how the brain can evolve.
Dr Baden will join all of the 2017 prize winners and their nominators at a gala dinner in London in March 2018 to celebrate the award of this year's Philip Leverhulme Prizes.
Every year the Leverhulme Trust award up to 30 prizes of £100,000 across a wide range of academic disciplines.
The money can be used over a two- or three-year period for any purpose which can advance the prize-holder's research.
For the 2017 competition the selected subject areas are: Biological Sciences, History, Law, Mathematics and Statistics, Philosophy and Theology, and Sociology and Social Policy.
For more information on Dr Baden's research, visit his lab website.