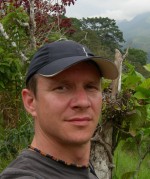 Dr
Mika Peck
Biography
My work is dedicated to the conservation biology of the tropical environments from rainforest to reef, with a focus on South America, Indonesia and Papua New Guinea.
Short Biography
From 2005 – 2008 I developed and led the Darwin Initiative PRIMENET project to establish a sustainable conservation network for primates in Ecuador. The legacy of this project is on-going and we have now established a protected area for the critically endangered brown-headed spider monkey in the Chocóan forests of NW Ecuador through a programme of sustainable livelihoods (Conservation Cacao/parabiologist programme) and land purchase and protection. You can find out more about the Choco Project by clicking here.
We have also established a research centre using a citizen science model in Ecuador at the Santa Lucia Reserve in the Ecuadorian Andes that generates sustainable livelihoods to support a community protected reserve and provides a platform to train local and international young scientists.
Other Darwin projects I have supported include work in Fiji, and more recently in Papua New Guinea (PNG). The latest project in Papua is addressing the challenge of raising income for indigenous communities from standing forest that compete against logging using ecosystem services (i.e. REDD++, biodiversity research as business, ecotourism). The community at Wanang in PNG has recently been awarded the Equator Prize for its contribution to conservation.
We are now appying the paraecologist training model to deliver capacity for community based resource management - applying the first 'marine paraecologist model' for the first time to address marine resources in Indonesia.
For more information use this link to laboratory webpage with latest blogs.