Impacts of artificial lighting at night on insects presented by ecologist
By: Jessica Gowers
Last updated: Thursday, 18 March 2021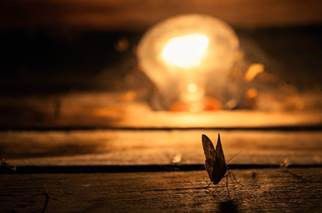 An ecologist at the University of Sussex has presented the impacts of artificial lighting at night on insect conservation by editing a Special Issue of a research journal.
Dr Alan Stewart, a Reader in Ecology, edited the Special Issue of Insect Conservation and Diversity, following a call for submissions.
The issue presents recent research addressing the impacts of light pollution on insects and their conservation, reviews existing literature and experimental studies, discusses priorities for future research and provides best practice recommendations for such studies.
Dr Stewart said: "Widespread adoption of artificial light at night presents a growing threat to biodiversity; light pollution has radically changed the night-time environment for many animals, including insects such as moths and fireflies. It may well be contributing to the widely reported declines in insect populations, but supporting evidence of this is currently sparse.
"To help address this, this Special Issue brings together some of the latest research on how diverse groups of insects are affected and how the impacts might be mitigated in future."
Current levels of artificial lighting at night is believed to be disrupting the natural daily and seasonal light cycles in many parts of the world.
There are growing concerns about the impacts that this may have on the behaviours of nocturnally active insects, including feeding, migration and dispersal, predator avoidance and reproduction, as well as the knock-on effects this might have for other species and ecosystems as a whole.
Dr Stewart compiled eight recent research papers which address these concerns and which cover the impacts of light pollution at multiple scales; from individual specials to whole environments.
The Special Issue also provides possible mitigation strategies, including the selection of less damaging light spectra for night-time lights and increasing the use of dimmers, timers and motion sensors, which may help offset some of the worst affects.
Dr Stewart added: "One cause for optimism regarding light pollution is its lack of persistence once the lights go out, the immediate impacts disappear. It is vital that insect conservationists work with lighting engineers and planners to devise ways of focusing artificial light at night only where and when it is needed, to allow us to continue our activities safely, while simultaneously keeping it away from sensitive natural environments."
Impacts of artificial lighting at night on insect conservation is published in Insect Conservation and Diversity.